A Fiery Fling Ignites Pittsburgh: A Review of "Bain" by Sawyer Bennett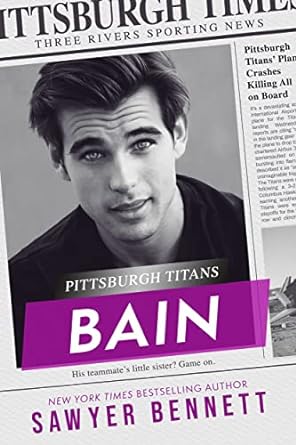 In the ninth installment of the Pittsburgh Titans Series, "Bain," by author Sawyer Bennett delivers a sizzling sports romance that fans of the series won't want to miss. This time, the spotlight shines on the newest addition to the Pittsburgh Titans, Bain Hillridge, and his tumultuous journey into the world of love and relationships.
The story revolves around Bain Hillridge, a talented athlete who has recently joined the Titans, making waves and forming connections with his new team. But there's a complication that he didn't see coming: a scorching attraction to Keira McGinn, the younger sister of the team's star goalie, Drake McGinn. It's a classic case of forbidden desire that spells trouble from the get-go.
Bain's character is compelling, coming off a stint with the Arizona Vengeance and now finding himself in unfamiliar territory with the Titans. He's the quintessential bad boy with a magnetic personality and a knack for getting what he wants. Keira McGinn, our fearless heroine, is no less intriguing. She's independent, strong-willed, and unapologetically anti-relationship. When these two fiercely independent individuals collide, the sparks fly.
The story kicks off with a steamy hook-up, quickly transitioning into a friends-with-benefits arrangement. However, it doesn't take long for these two commitment-phobic characters to find themselves navigating uncharted emotional waters. What was initially a no-strings-attached fling transforms into something much deeper as emotions and passion intensify.
Sawyer Bennett masterfully explores the complexities of love and desire in "Bain." The progression of Bain and Keira's relationship is fraught with tension, passion, and plenty of feels. As they grapple with their own reservations about commitment, readers are treated to a rollercoaster of emotions that will keep them engrossed throughout the story.
What sets "Bain" apart is the depth and authenticity of the characters. While the scorching chemistry between Bain and Keira provides the fiery core of the story, it's the well-crafted character development that keeps readers invested. As these two individuals navigate their feelings and fears, we witness their growth and transformation, making their journey from casual encounters to a real relationship all the more satisfying.
Sawyer Bennett's storytelling is as strong as ever, with vivid descriptions, engaging dialogue, and a pacing that keeps you turning the pages. "Bain" is not just a tale of love and lust but also a testament to the power of personal growth and the transformative nature of relationships.
In "Bain," Sawyer Bennett has once again proven herself as a top-notch writer in the sports romance genre. With its irresistible characters, steamy encounters, and a heartfelt exploration of love's complexities, this novel is a must-read for fans of the Pittsburgh Titans Series and anyone who enjoys a compelling, emotional romance. So, if you're in the mood for a hit of fiery passion, dive into "Bain" and prepare for an addictive and unforgettable reading experience.
Book Stats:
Rating 4.5/5
Tropes: One Night stand, Hockey, Accidental pregnancy, Friends with Benefits,forbidden, team mate's sister,
Series: Pittsburgh Titans
CW: Please check author's website for content warnings. Sensitive subject addressed
Other Books in the series:
Camden
Hendrix
Cannon
Drake
Coen
Gage
Stone
Baden