Hendrix by Sawyer Bennett
In the aftermath of a devastating plane crash that claimed the lives of their fellow Titan teammates, Hendrix Bateman emerges as one of the miraculous survivors.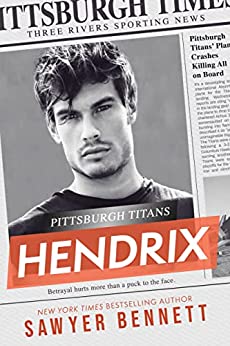 Hendrix, determined to make the most of his second chance at life, finds himself irresistibly drawn to Stevie Kisner, a bar owner with a fierce personality and an unyielding attitude.
Right from their initial encounter, the electric chemistry between Hendrix and Stevie jumps off the page. The author balances the steamy and passionate scenes that leave us readers desperate for more. Their banter is both entertaining and endearing, injecting a lighthearted touch into the story while underscoring their undeniable bond. The rapid pace at which their relationship evolves keeps the plot gripping, ensuring a quick and satisfying read.
The time Stevie and Hendrix spend together Stevie's flaws and vulnerabilities come to light. While she exudes strength and independence, her occasional moments of naivety show just how big she loves. It also is at times to her own detriment.
I found myself utterly captivated by the progression of their romance and the profound growth exhibited by Hendrix. The author delivers a cohesive narrative that effortlessly holds the reader's attention.
Prepare to be swept away by the irresistible allure of "Hendrix," an enchanting sports romance that masterfully combines sparkling banter, sizzling chemistry, and an exhilarating whirlwind of love. With her signature writing style and storytelling finesse, Sawyer Bennett crafts a tale that will captivate both avid fans of the series and enthusiasts of the genre at large. Prepare to immerse yourself in a passionate love story that not only ignites the heart but also takes you on a transformative journey alongside the remarkable main characters. Get ready to be spellbound by the magic of "Hendrix."
I  did listen to the audiobook narrated by Tor Thom and CJ Bloom. They did a great job narrating. The deep timbers of Tor's voice balanced naturally with the cadence of  CJ Bloom's voice.   
Book Stats:
Rating 4/5
Tropes: instant connection, hockey romance. girl gang, Sports romance, opposites attract