Take Me by Stacey Kennedy
Take Me is a "A Healing Connection Filled with Passion and Protection" is a captivating romance that weaves together themes of healing, self-discovery, and love. With its emotional depth and sizzling chemistry between the protagonists, it is a read that will leave you rooting for Nessa and Ronan's happiness until the very end.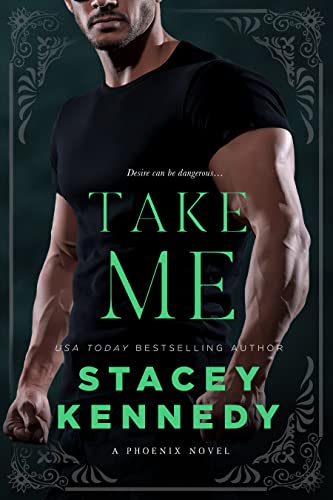 Nessa Hale's search for true love has been a series of disappointments, leaving her emotionally shattered and questioning her romantic ideals.  Nessa's hope begins to waver until tragedy strikes, further deepening her wounds. Enter Ronan Crawford, a retired Navy SEAL haunted by the scars of war. Ronan finds solace in his new role at Phoenix, a secret sex club in New York City, where he protects others and forms new connections. When Nessa, broken and seeking refuge, asks Ronan to teach her self-defense, a remarkable journey of healing and love begins.  
In this captivating tale, the author skillfully explores the intertwined lives of Nessa and Ronan, both grappling with their own demons. Their individual journeys of overcoming past traumas, self-discovery, and finding purpose merge beautifully as they embark on a unique and intense bond. Nessa's vulnerability and longing for love resonate deeply, while Ronan's protective nature and desire to be her safe haven reveal the hidden depths of his character.
As their friendship evolves into something more profound, Ronan introduces Nessa to a world of passion, where inhibitions fade away and wicked desires come to life. The chemistry between them ignites, creating scorching and captivating scenes that add a layer of intensity to their emotional connection. Their story is a testament to the power of healing through shared experiences and the strength found in vulnerability.
The author excels at creating a sense of urgency and suspense as Nessa's recovery is threatened, adding a thrilling element to the narrative. Ronan's unwavering determination to protect her at all costs showcases the depths of his love and loyalty. The reader is taken on a rollercoaster ride of emotions as they root for these characters to find their happiness amidst the darkness that threatens to consume them.
While the story offers an engaging plot and well-developed characters, some readers may find that certain aspects of the story could have been further explored or expanded upon. Nonetheless, the heartwarming and passionate connection between Nessa and Ronan is undeniable, making it a truly compelling read. 
Books Stats:
Rating 4/5
Tropes: Protector Romance, Body guard, sex club, friends to lovers, veteran