Never too Late by Chelle Bliss
He looks annoyed, exhausted, and like he fully expected me to pull a trick like this. He probably thinks his mother and I schemed this up just as a way to get the two of us alone.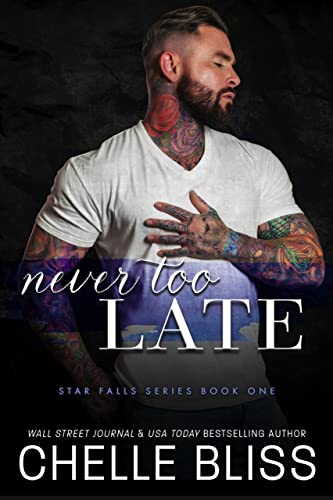 POV: Dual 1st Person
Put out percentage: 73%
Tropes: Small Town; Matchmaking Mom; Series Starter; New to Town; Low Angst; Slow Burn
Series: Star Falls Book 1
Rate:  3/5 Stars
Release Date: April 25, 2023
Never too Late is enjoyable read that is quick and easy to get through. It is low angst without a lot of chaos int he storyline. The matriarch of the Bianchi has decided that she wants Franco to settle down and newcomer Chloe will be the perfect match for him. While I typically a little bit more meat in my stories, I enjoyed this one after being in a dark rabbit hole for a while.
Chloe is a woman that has moved to town because she inherited a bookstore but she is a little bit lost in her lfe.
Franco is a man that is happy being single and has no plans to change that.
Little did they know that the universe is conspiring against them to bring them together. This isn't one of my favorites by Chelle Bliss, but it is a strong storyline that kept me engaged. There is a little bit of a suspense element that I enjoyed. And it didn't feel like it was added to bring something more to the story. The way in which it plays out works and makes sense.
This is a slow burn with a lower steam level than you typically find with Bliss but it is not at all closed door. While I didn't love it, it's still a very good read and I am intrigued by the rest of the Bianchi family.