Cannon by Sawyer Bennett- Review
Swoony Perfection. Cannon is swoony perfection. This book was the book I did not know I needed. The story off Cannon West, youngest head coach in NHL History stepping into the Pittsburgh Titians head coaching position after their season of tremendous loss the previous year. Cannon's heroine Ava is the determined and independent type of heroine that makes a romance book. Together these two set the pages on fire with their flirty banter and combustible chemistry.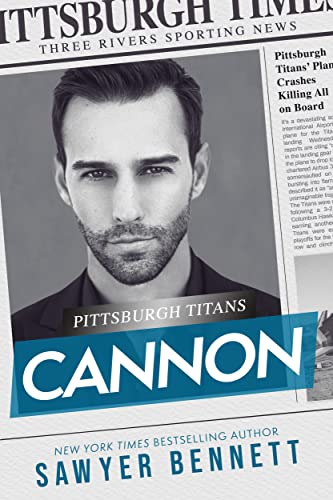 Cannon is a bit of a mixed bag of signals and honestly, I liked that about him. I liked his flirty nature. I liked that he had boundaries, but they kept moving. I think it showed his growth. I think he showed his humanity and how sometimes even when we think we are firm on a stance the right person can move you towards things you did not know you wanted or needed. I think this is a relatable dilemma of wanting to take care of someone and setting boundaries all at the same time.
Ava is an amazing heroine! Don't tell the others but she might be my favorite of the girl gang of the Titans. Ava is determined to be independent and do things her own way. She is learning to rely on herself. She easily could have accepted what Cannon was offering, instead she made it clear she was going to do this on her own.
These two have amazing chemistry. This book is sexy, and Cannon is an amazing dirty talker! Cannon and Ava both have emotional baggage from past relationships which gives them both pause. But together they really do come together for one phenomenal story.
The Pittsburgh Titian Series continues to deliver unique and powerful stories of determination and finding love where you least expect it. Fun and flirty meetings at the local coffee house and a first date for the history books leads to a steamy and all-consuming read.
 I was lucky enough to receive an advance copy of the audio of this book and it is spectacular. Stephen Dexter and Mackenzie Cartwright capture the essence of these characters, creating a delightful listening experience.   I cannot recommend this audiobook enough.  
Book Stats:
Rating: 5/5 Stars
Audiobook is a 5 star for narrations
Audiobook narrators – Stephen Dexter and Mackenzie Cartwright
Tropes: age gap, hockey romance, meet cute, one night stand, instant attraction, book boyfriend,
Series: Pittsburgh Titans
Type: Interconnected Standalone
Other Reviews in this Series by me:
Baden- Book 1
Stone- Book 2
Gage- Book 3
Coen- Book 4
Drake- Book 5