Wild and Wicked by Mari Carr
Wild and Wicked by Mari Carr was a delight! The Italian Stallion series has been fantastic, and this book might just be my favorite.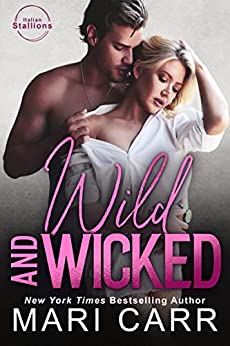 I adored Elio and Gianna. They were so unexpected.  Quiet to the outside world but forced together they really opened up and blossomed.  The author did a great job of giving us chemistry but also true attraction between these characters. When these two were on page together it was electric, and I was absolutely all in for their story. I also loved the shout out to one of my favorite hockey players in Romance Alex from Making His Play. 
Elio and Gianna are classic overthinkers and planners. When you take away the distraction of life and put them in a bubble to really think and explore their thoughts but also the attraction between them, sparks fly.
Gianna's backstory makes you realize just how hard her life is been and her confusion on what her future should be and look like. She was a such a great character, but I wanted more for her. I wanted more emotions and thoughts. She is such a strong complex character but she never showed her vulnerabilities even to us the reader. She absolutely was the epitome of the stiff upper lip and move on but I would have connected with her so much more had I had a peak in to those weak moments of doubts that are so human.
Elio could have also used a bit more weakness. We get more from him than we do from Gianna.
Overall this was a great read and I enjoyed the story.  It is easily a 4 star read.  It was quick and sexy.   If you are looking for a fun snowed in opposites attract romance, you should absolutely pick this up. 
Book Stats:
Rating: 4/5
Series: Italian Stallions
Tropes: Hockey Romance, Sports Romance, After Sports, Siblings best friend, snowed in, forced proximity, surprise pregnancy, Family Series, Found Family, Friend Group,
Pop: 28%
Reviews for other books in the series
Rough and Ready
Hard and Fast
Down and Dirty