Every Shade of Winter by Carrie Elks
Author Carrie Elks gives us book 5 in the WInterville Series with Every Shade of WInter and it is one to add to your TBR now!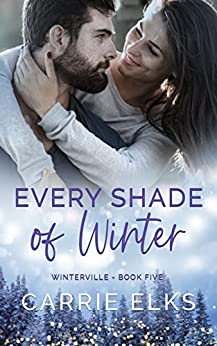 This series is top-notch, and North is a standout character.
North and Amber have been in the background of this series, and I was not prepared for how dynamic this story is.  This friendship between business partners is the cornerstone of the story.  Amber was smart and refreshing.  North you think is this grumpy Gus all up in his feelings but really, he is someone who cares deeply with great passion but worried about what he puts out into the world. 
I really liked Amber's character. She has this subtle voice of reason mentality. She is thoughtful in her actions. It's refreshing to see Amber stand on her own two feet before jumping into a romantic relationship with North. It would have been so easy for her to simple let him take care of everything but instead she moved forward at her pace and what worked for her to be on solid ground. I just adore that about her! It also shows the care and thought the author put into this character.
North is presented to be grumpy, but I am not sure that is right word for him. He is cautious. His life has not been easy. As the oldest amongst the Winters, he carries the heavy crown of caring for his siblings and cousins. He's incredibly caring and protective of his best friend, Amber but really all those he hold dear. North is what makes a book boyfriend. He is solid and shows up when needed. He is careful with his words and actions even when he passionate about something.
When they do finally move past friendship, the chemistry between them is undeniable. North's determination to have Amber is heartwarming, and their raw and honest emotions make for a beautiful romance. The supporting characters add depth and charm to the story, and the little ones running around are adorable.
Overall, North and Amber's story is the perfect HEA for these two characters. The author has created a captivating romance that leaves readers wanting more. I really love Winterville. This is what small town spice is supposed to be. The charm of the town and characters just add another level to these stories!
Book Stats:
Rating: 5/5
Series: WInterville Book 5
Tropes: friends-to-lovers, accidental-pregnancy, bearded-hero, book-boy-friends, co-workers, close-proximity, family-series, grumpy-sunshine, pining-for-her, protector, runaway-bride, slow-burn, small-town

Catch up on my other Reviews in there Series here
Book 1- Welcome to WInterville
Book 2 Hearts in Winter by Carrie Elks
Book 3- Leave Me Breathless by Carrie Elks
Book 4- Memories of Mistletoe by Carrie Elks