I am always on the outlook for those spicy romance books that will capture the holiday feels we get from the traditional Hallmark Christmas Movies. If you are like me then look no further then the magical world of Winterville, WV. I am loving this series. I need to still read book 4. The series will not be complete until March of 2023. This is the perfect time to start this series. This is the review for book 2, and 3. You can read my previous review here or listen to the Buzzing about Romance Quick shot of romance here.
Hearts in Winter by Carrie Elks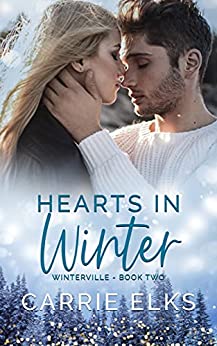 Rating: 4/5
Trope: Second Chance, Small Town, Holiday Romance, Family Series, Found Family, Fake Relationship
Series: Winterville
Pop: 46%
CW: Mention of Child Abandonment and parental drug use.
I will admit I am typically very critical about a second chance romance. I need the reason that couple isn't together to make sense. I also need whatever caused their break to be easily resolved without too much drama. All of that said, I went into Hearts in Winter with a skeptical eye. I quickly was invested in the story of Dylan and Everly.
This story had so much tension as these two continued to fight against their attraction and really love they have for each other. For Everly and Dylan they married two young and did not realize you don't have to give up your dreams to be with each other.
The unexpected emotion of these two and the journey to get to their HEA was beautiful written and captivating. I am also enamored with town of Winterville. If you are a fan of Hallmark Holiday Romances and are looking for a little bit more spice you should give The Town of Winterville a try. This story was 4 Bright shining Christmas Stars!
Leave Me Breathless by Carrie Elks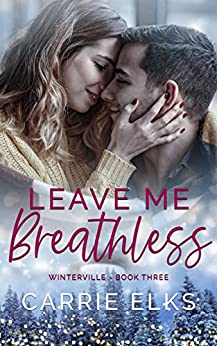 Rating: 4.5/5
Tropes: sibling's best friend,small town, close proximity, sports romance, family series, found family, Holiday romance,
Series: Book 3 in the Winterville Series
Pop: 50%
A brother's Best Friend Romance at Christmas Time… Yea Please!!! I was all in for this romance!   Gabe is the Winter's Grandchild dare devil.  Gabe a former snowboarding champion, retired due to an injury. He is in the process of building a ski resort outside his family's town of Winterville. Gabe captured your attention in book but once you get to his story you will be enraptured into his charm!  I'm so in love with him. He is simply a good guy who cares deeply for everyone his life. He fights his own battles; it doesn't hold him back from actively being there for his family and friends. He is total book boyfriend material.  
Nicole- running from a bad breakup and her family's judgmental eye had a chance to stay for a couple of weeks, teach yoga in the small town of Winterville thanks to her brother's best friend. Nicole really needs someone in her life to make her a priority, to listen to her and just hold her during the touch moments. The statement of "I am enough" fits Nicole so much. She is enough but she needs others in her life to see it and treat her as such. It took Nicole a long time to know her worth and she figured out what makes her happy. She is fated to Gabe.  
Anytime these two are together on the page, their worlds are calm. Their moments impact them heart and soul. I really loved their story. It is so far my favorite of the series. This series is seriously becoming one of my favorite Christmas reads.