Defensive Alliance by Jemma Westbrook
POV: 3rd Person Multi
PoP: 74%
Tropes: Deception; Protector Romance; Amnesia; Heroine in Danger; Slow Burn
Series: Alaskan Security-Team Rogue Book 9
Type of Series: Series of Standalones with interconnected storylines
Rate:  4/5 Stars
Release Date: February 28, 2023
I typically don't enjoy a deception or amnesia tropes, but it is Jemma Westbrook and I trust her writing. This one works well for me because the deception doesn't last long, and the amnesia is believable. Jamison is a man who holds himself back from everyone. He lets them in to a point, but still holds his true self and feelings close to the vest.
Sadie wakes up not knowing where she is, or what has happened in the past two years. Jamison and the rest of the Alaksa Security team are wondering just truly who Sadie is. Is she good, or is she bad? Because of the circumstances of their meeting they question whether or not she is on their side. These two have an instant connection, but even with Sadie not knowing who she is has her questioning so many things. Something feels off about their entire reaction. I really love this series, and it's one that you truly need to read to get the full feels of it. There are a lot of moving parts, and it does have a big cast of characters, but they are a team that truly has become family. I can't get enough of this series, and you do get a better feel of this series if you read it in order. Books one through five must be read in order, and then there are connected plots between the rest but they read as more standalone. They are all available in Kindle Unlimited for your reading pleasure.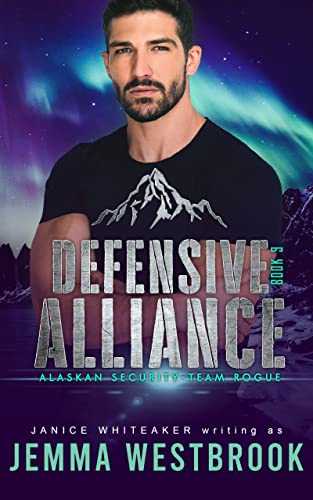 Check out some of my other reviews for Jemma Westbrook.
Dangerous Proximity (Book 8 of Alaskan Security Team Rogue)
Friendly Fire (Book 7 of Alaskan Security Team Rogue)
Advanced Bounds (Book 6 of Alaska Security Team Rogue)
Did you KNOW??? Jemma Westbrook is actually a pen name for Janice Whiteaker.
But she also writes under the pen name Josie Watts. Check out the podcast, we did an interview with her talking about pen names.
I chatted with Mindy McKinley about her cowboy romances here.
I chatted with Heather about book one of her Alaskan Security Series.
And last but not least, here is a review for book one of her rom-com series under her Josie Watt pen Name.
Can you tell I am a fan?!?!