Temptation by Jenna Hartley
Get ready for an irresistible taboo romance with 'Temptation' by Jenna Hartley – A tale of ex's dad, forbidden love, and close proximity passion!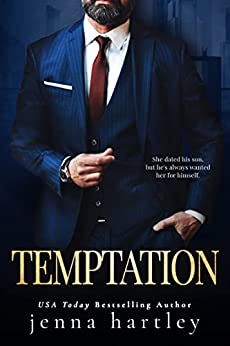 Temptation by Jenna Hartley is the story of Kendall, who had to put her dreams on hold to take care of her mother during her cancer treatment. When Kendall was offered her dream job, her mother was diagnosed with breast cancer, and she turned down the opportunity to stay and help her mom. She used the move as an excuse to break up with her boyfriend, whom she felt was not serious about their relationship. Unbeknownst to him, she never informed him of the change in her plans.
The Characters
Kendall was then put in touch with an agency that hired live-in help for the rich and famous. They had an amazing opportunity for her, which her mother refused to let her pass up. However, the job came with more than she expected. The man she had been longing after for years was now her boss, and to make matters worse, he was her ex-boyfriend's father.
Kendall is a good girl who always puts everyone else first until she meets Knox. No guy has ever truly put her first or loved her unconditionally. Kendal has different reasons for being attracted to Knox in this forbidden romance. For her it is breaking with her good girl rule following imagine. She has always done the right thing, while being with Knox is right for her heart she realizes that there are consequences to this endeavor.
Jenna Hartley has created a captivating silver fox character in Knox, who exudes an alluring charm that readers cannot resist. He is a thoughtful and generous character, imbued with a wisdom and freedom from societal expectations that is truly refreshing. Knox's maturity is a standout quality that makes him an ideal hero, and the author has masterfully crafted him in a way that makes him relatable and a caregiver without any expectations. The chemistry between the characters is palpable, and the writing and character development make for an enjoyable and engaging read.
"And even though being with Knox was its own sort of rebellion, I felt as if I'd barely stepped into my power. Into embracing my desires."
This novel explores a forbidden romance between Kendall and Knox, characterized by a significant age gap and complicated familial ties. Emotions run high as Kendall copes with her mother's illness while navigating her relationships with both her father and ex-boyfriend's father. Despite the challenges, Kendall and Knox's connection is intense and full of passion. Knox treats Kendall with the utmost respect, showering her with love and making her feel like royalty. The book delves into the far-reaching effects of following one's heart, even when it defies social norms and family expectations.
If you are a fan of taboo yet irresistible romances, you will surely love Kendall and Knox's love story. Join the club of readers who couldn't help but devour this captivating and thrilling read.
Book Stats:
Rating: 5/5
Tropes: Forbidden, ex's dad, age-gap, sports romance, billionaire, after-sports, 
Check out my past reviews of Jenna Hartley's books