Ruthless Salvation by Jill Ramsower
An Explosive Mix of Passion and Danger – "Ruthless Salvation" by Jill Ramsower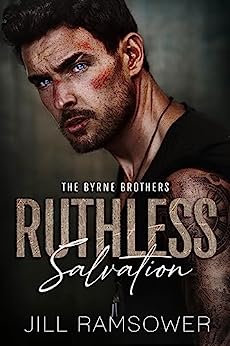 Ruthless Salvation" is the thrilling third installment in Jill Ramsower's Bryne Brother Series, set against the backdrop of the gritty Irish Mob scene in the heart of New York City. This Irish Mob Romance introduces us to Stormy, a strong-willed heroine working as a hostess and waitress in a strip club owned by the enigmatic and fiercely protective Tor Bryne. Both characters are haunted by their pasts, seeking refuge from their own demons in the tumultuous world of organized crime.
The novel unfolds in two parts, with the present-day narrative and Stormy's haunting past converging to reveal the depths of her struggles and the scars she carries. While this dual timeline approach provides valuable insights into Stormy's character, it occasionally interrupts the flow of the story and the simmering chemistry between Stormy and Tor. Nevertheless, Ramsower's storytelling prowess shines through as she delves into the complexities of her characters.
One of the highlights of Ramsower's writing is her ability to create heroes who are fiercely protective of the women they love, and Tor Bryne is no exception. His unwavering commitment to safeguarding Stormy gives the story an intense and captivating edge. The chemistry between Tor and Stormy is electric, and their love story is filled with tension, passion, and a dash of danger.
For readers who relish a "touch her and die" kind of vibe in their romance novels, "Ruthless Salvation" delivers that and more. The book is spiced with suspense and danger, keeping readers on the edge of their seats as they navigate the treacherous world of the Irish Mob alongside Tor and Stormy.
In conclusion, "Ruthless Salvation" is another solid addition to the Bryne Brother Series by Jill Ramsower. While the dual timeline structure may momentarily distract from the main storyline, the intense chemistry between the protagonists and the palpable sense of danger make this a must-read for fans of Irish Mob romance. Ramsower's talent for crafting protective heroes and sizzling romances shines through in this thrilling and passionate tale.
BookStats:
Rating 4/5
Series Bryne Brothers Book 3
Interconnected Standalones
Tropes: Touch Her and Die Vibes, Portector, Hidden Identity, Mafia Romance, NYC, Rescue Romance, Stalker, Mutual Pining, Damsel in Distress ,
Pop: 22%