Brave Enough by Kelly Elliott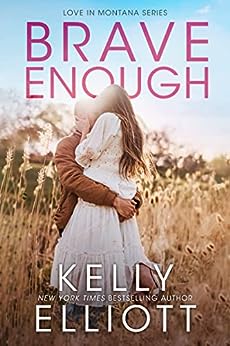 "Brave Enough" by Kelly Elliott is the third installment in the Love Me in Montana series, and it takes readers on a journey into the world of reality TV dating on a Montana ranch. While it has its moments, I found it to be an okay read, deserving of a three-star rating.
The story revolves around Hunter Shaw, a charming hero who finds himself as a contestant on a new reality dating show set on his family's Montana ranch. The show's host is Kipton, a former Miss Montana with her own reasons for participating. Kipton needs the money to help her adoptive parents save their home, while Hunter aims to support a family charity that builds playgrounds.
One of the strengths of the book is the natural development of the relationship between Hunter and Kipton. Their connection feels genuine, and their evolving bond is engaging to follow. The backdrop of the sprawling Shaw family adds depth to the story, providing a warm and welcoming atmosphere.
The romance in "Brave Enough" leans heavily on the close proximity trope, which adds tension and drama to the story. Both Hunter and Kipton have the option to leave the show, but the consequences of that choice feel significant, keeping readers on their toes.
However, there were a few aspects that didn't quite hit the mark for me. While I enjoyed the family dynamics, there were moments when the pages felt overcrowded with cousins, aunts, and uncles. I found myself wishing for more focus on the ranch and the cowboy elements, as these aspects could have added depth to the story.
Another issue I had was with the characters themselves. Hunter and Kipton, both aged 21, often acted their age, making quick judgments and decisions. It would have been nice to see the family stepping in with more guidance and support to help them navigate their choices.
In conclusion, "Brave Enough" is a quick and easy read that fans of reality dating shows like The Bachelor may enjoy. It offers a natural and engaging romance but could benefit from a bit more ranch life and cowboy charm. While it has its moments, it falls short of a four-star read for me due to the crowded family dynamics and the characters' occasional immaturity.
Book Stats:
Rating: 3/5
Series: Book 3 in the Love Me in Montana
Next Gen- Interconnected standalone
Tropes: 3rd-act-break-up, close-proximity, co-workers, cowboys, family-series, friends-to-lovers, girl-gang-series, instant-attraction, level-3-steam, miscommunication, next-gen, quick-read, quick-shot-of-romance,  slow-burn, small-town, virgin-trope, TV Setting,