Silent Vow by Jill Ramsower
This was my first book by Jill Ramsower. She is a new to me author. Uncertain about what to anticipate from Silent Vows, I delved into its pages with curiosity.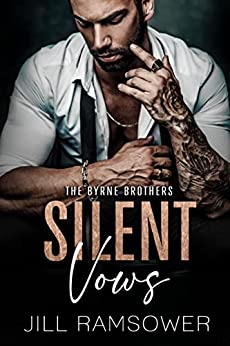 To my delight, I found the novel to be a charming blend of darkness and romance. The gradual development of the story's chemistry  was well-crafted, and the author displayed a clever hand in world-building. This book features both Irish and Italian Mafia working with in the NYC setting.
Noemi is a strong and determined character in this book. She is also concerned about the safety of her brother. Noemi is struggling with her own doubts and trust issues. Noemi is not sure she can trust Conner with her secrets. But Conner's loyalty to Noemi is evident, and it seems that he will stop at nothing to protect her.
Conner is not the type of man who is traditionally romantic or gentle, but it is possible for him to exhibit these qualities for the right woman – and it appears that Noemi is that woman. Despite their differences, there is a strong connection between them, and Conner is willing to go to great lengths to keep her safe.
Conner and Noemi have a complex and intense relationship. Although it started as an arranged marriage, Conner's feelings for Noemi are genuine and strong. It seems that he went to great lengths to get to know her and win her over.
I so enjoy when attraction and chemistry bring a power man to his knees. Conner's willingness to protect Noemi is what makes a great book boyfriends with the added bonus of his enthusiasm to burning the city to the ground.
I really enjoyed this book and I am eager for more, as Jill Ramsower tantalizingly hinted at an amazing book 2. 
Book Stats:
Rating: 4/5
Series: Bryne Brothers
Tropes: mafia, dark romance, arranged marriage, slow burn, NYC,