Review: Made For You by Natasha Madison
Made for you is a hockey romance book. This is the story of Vivienne and Xavier. The emotional and entertaining journey of this book was so well down. The author weaves us a story of laughter and light after crawling out of the darkness. The compassion and care that the author give this story is beautiful. Moments of tears and laughter in this all-consuming story.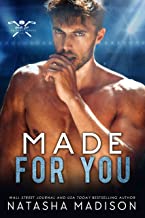 Vivienne has always been the quiet one in her large chaotic family. Never one to be in the middle of all the family shenanigans she finds a way to escape and give her some of the solitude she desires. Vivienne buys herself a yacht, learns to drive it and move in whilst it is moored at the local marina.
Her first day in the yacht has her meeting her grumpy neighbor Xavier and his adorable dog Beatrice.

Xavier only wants to be left alone with his sassy dog Beatrice. Xavier likes his quiet life and the solitude of living on his boat. He is still haunted by his past and is slowly coming to grips with his choice to pick himself over his career.
This book is worthy of more than the 5 Stars. The star of this book is really the floof Ms. Beatrice. She was delightful and added so much humanity to this story. This series is what I have come to expect from the author. I am so glad to have had the chance to read and cannot wait for the next book in the series.
This book has so much heart. It really gives so much to the reader. This was a phenomenal read! This story is raw and heartbreaking yet witty and entertaining, it has wonderful characters, and it is beautifully written. I really cannot recommend this book enough. It has been the highlight of my February and I know it will sit at the top of my 2023 books read.  
Book Stats:
Rating: 5/5
Tropes: Hockey romance, After Sports, Neighbors, Close Proximity, Floof in Charge
Series:  Made For

Review of Book 1 in the series here