Mine to Promise by Natasha Madison
"Discover Heartfelt Romance: 'Mine to Promise' by Natasha Madison. Delve into an Enchanting Storyline with Surprises, Passion, and Unforgettable Characters. Explore the Southern Wedding Series #6. Available Now!"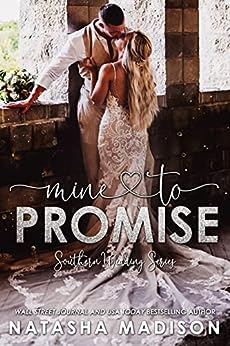 I am thoroughly immersed in the world of this series, finding immense pleasure in each and every book. "Mine To Promise" (Southern Wedding #6) stands out as an absolute gem to me. Its allure was so captivating that I found myself unable to set it aside, particularly due to its incorporation of the surprise baby trope.
Addison's life was forever changed after a chance encounter led to a single night that yielded a beautiful daughter. The passage of five years brings her to the wedding of Matty and Sofia, an event that unexpectedly reunites her with the father of her child. And, to my delightful surprise, this man is none other than Stefano Dimitris – the son of Vivienne and Mark from the renowned "This Is Love."
Stefano emerges as a character of remarkable dynamism, arguably even surpassing his mother Vivienne in this regard. The frequency with which he injects moments of swoon and sheer delight into the pages of the narrative is nothing short of astonishing. Furthermore, his portrayal as an exceptional "Girl Dad" stands as a testament to his top-tier qualities in fatherhood. I found immense pleasure in observing how the narrative seamlessly interwove Stefano into its fabric, affording Vivienne opportune moments to make her presence felt in ways that I wholeheartedly welcomed. This intricate narrative decision truly showcased a stroke of sheer brilliance.
The trajectory of this storyline took me on an unforeseen journey, and I must say, it was the best kind of surprise. It deftly balances heartwarming moments with tantalizing and passionate encounters, creating a harmonious blend. Stefano exudes the finest qualities inherited from his parents, offering readers a satisfying wink-wink (if you catch my drift) into his character makeup. The dynamic between Stefano and Addison brims with an undeniable, fervent, and fiery chemistry that's simply spectacular.
Mad Love to Princess Avery for her ability to effortlessly steal the limelight on every single page she graced. It would be an oversight on my part not to bring attention to Vivienne's initial and quite fitting nickname for Mark – a choice that was undeniably well-suited, albeit not entirely suitable for all occasions.
"Mine To Promise" boasts a swift tempo that remains immensely fulfilling and enjoyable, replete with quick-witted banter that dances between the Stone, Grant, and Baker families. I'm eagerly anticipating the plunge of readers into this stellar five-star book, where they, too, can revel in its enchanting pages.
Book Stats:
Rating: 5/5
Series: Southern Wedding
Series Type: Interconnect Standalone
Tropes: Secret Baby, Family Series, Second Chance, Wedding, Book Boyfriend, Close Proximity, Single Mom, Single Parent,
Other Books in the Series:
Mine to Take