Man Cave by Vanessa Vale is book 3 in the On A Manhunt series. Reading this is an experience with Heat and Hilarity and a Ridiculously Fun Adventure!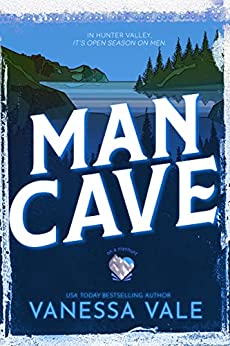 There are certain moments that can elevate a good character to greatness. One such character is Theo, a cantankerous doctor who relocated closer to his brothers and shifted from being a surgeon to a family practitioner in town. Meanwhile, Mallory is a cheerful first-grade teacher who was instantly smitten with Theo from the moment she laid eyes on him.
Their first true encounter took place in the doctor's office, where Mallory was seeking birth control to have a sex life like her peers. Theo felt a twinge of envy and jealousy, but later that evening, he proposed the idea of becoming her sexual companion.
Their arrangement was electric and passionate.
As time passed, Theo underwent a significant transformation in character. His gradual displays of affection for Mallory became evident to the reader but remained hidden from the characters until the story's conclusion.
The characters of Theo and Mallory were good. Mallory's growth in this story was leaps and bounds better than Theo. There was a struggled to like Theo and continue to root for him. Maybe if the author had given us more insight into the relationship or lack of one with his father that might have helped.
If there is going to be a third act break up due to lack of communication the grand gesture had better be huge; Theo's was weak. I have spent a lot of time frustrated and angry with Theo. I am truly enjoying this series by Vanessa Vale but I do wish she would give us a bit more emotion and depth in these stories.
Book Stats:
Rating 3/5
Series: On the Man Hunt
Tropes: Close Proximity, Near Virgin Heroine, Small town, Friend group, Relationship coach, grumpy -sunshine,
Previous Reviews in the Series:
Book #1 Man Hunt
Book # 2 Man Candy