Sins of the Son by Zoe Blake
POV: Multi 1st Person
PoP: 5%
Tropes: Dark Romance; Enemies to Lovers; Small Town; Billionaire; Winery; Primal Kink
Series: Cavalieri Billionaire Legacy Book 2
Type of Series: Series of Standalones with Overarching Storyline
Rate:  5/5 Stars
Release Date: May 8, 2023
TW/CW: Non-Con/Dub Con… if consent is important for you, then this book might not be for you.
I wasn't sure what kind of story we would get that could possibly surpass Daddy Barone, but Cesare Cavalieri was all I needed and more.
Sins of the Son opens with Milana hating Cesare with a fiery passion, but it isn't clear as to why. Both of these characters were introduced in book one. Milana is the best friend of Amara, book one's heroine. While Cesare is the youngest son of Barone, our book one hero. The two of them were best friends when they were younger, but something happens to Milana and she cut him off at the quick. She has spent the last few years hating him because of what she went through. While the story transpires, we find that maybe what she thought happened isn't exactly true. However, as it plays out, you can understand why she holds onto that anger. She is a force of nature. Strong yet not. She is a juxtaposition of many things.
Cesare has loved Milana forever, however, when she pushed him out of her life he allowed it to happen. He lived his life as a billionaire heir and hasn't really looked back. But we find he is more than what he seems, and as their story plays out and he realizes some things… he feels a self loathing that he never expected.
Primal Kink at it's best.
Zoe Blake create a story in which the primal kink… the chase is front and center. Milana continues to run and Cesare continues to chase. He will do anything, and I do mean ANYTHING to have her be a part of his life. Consent is almost non-existent in this story, so if that is something that is important to you then pass on this story.
We get more of Amara and Daddy Barone as well as some insights into the relationship with Enzo and Renata. The storyline is not wrapped up in this book, but the HEA of Milana and Cesare is front and center. The next book is Enzo and will wrap up the overarching line that has be created through this series. This is a series that you do not want to miss. It is engaging and entertaining. And I can't wait for the final chapter.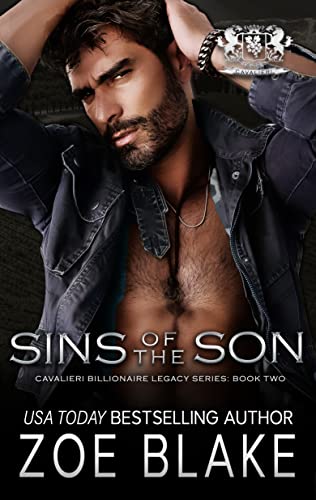 Listen HERE to Becky and I chat about Daddy Barone in a Quick Shot of Romance.
Check out my review of Book One Here.