Man Candy by Vanessa Vale
Man Candy by Vanessa Vale is a  sweet sweet treat of a book..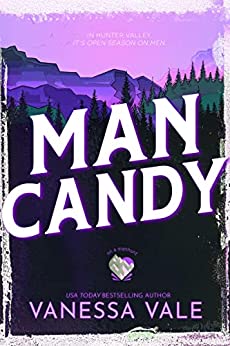 A hero who knows what he wants and does everything he can to prove not only wants but is there for the duration!
Dex James has fallen hard and fast for Lindy Beckett! I love the chemistry and the spice of this romance. The first time he met Lindy he knew she would be his wife. The only thing now was getting her to accept it. Dex is not perfect and that is something that I love about him. He is hiding from his real life and given a perception of being carefree and aimless to Lindy.
Lindy is thirty-five and looking for her Mr. Right. She is beyond ready to start her life with the right Forever Guy. At 14 yrs od Lindy created her Man List. The list of all the things she needs from her Mr. Right. Lindy has tunnel vision for she and is missing the sexy hockey player in front of her face!
Not able to fight her attraction for Dex, she settles for Mr. Right Now.
Dex might be the most patient of heroes. I think what I loved most about him is that he doesn't manipulate Lindy to get what he wants. He waits for her to see what is right in front of her face. All it took was a tree falling in on her house and some short nighties!

Lindy and Dex are so hot together. Their chemistry is off the charts and story just smolders!
I so in love with this small town that Vanessa Vale is creating.  I cannot wait for the next James brother to fall.  Man Hunt was very insta-love this story does take place over a month. We had great characters with great banter and fantastic spice. It is a must read! 
Book Stats:
Rating 5/5
Series: On a Man Hunt
Tropes: Age-gap (she is older), Hockey romance, sports romance. hiding in plain site, close proximity, roommates, vegas wedding, Small town
Pop: 1%.
Listen to our Quick Shot of Romance on Book 1 in the Series Man Hunt