Ascend by Swati MH was a pretty good read. It is not my favorite book by the author but overall it was enjoyable. This book does have so much complexity to it, emotion, lots of steam.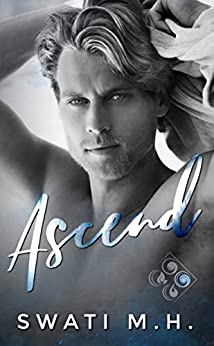 Garrett is a man who knows what he wants. For the last 4 years he has pined for Bella. He has sat on the sideline hoping for his chance with her. A former playboy that realizes he wants more than random hookups. He quickly makes choices in his life so that on the off-chance Bella sees him and potential for them to be a couple.
Bella is doing her best to fight what is so obvious. Bella is a single mom to sweet, sassy little Meera and doesn't trust easily. Her trust issues are problem for the couple up until the very end.  Bella does not give her heart easily or fully until it is almost too late. 
The chemistry between these two is great.  This author can write great spice and she keeps the story fresh and flowing. 
I did struggle with this book. Bella was not an easy character to connect with.  Garrett does all the work for these two to be together and she fights it every step of the way.  I felt like the true connection of this story was lacking because of that.  I admired Bella's independence, but because of the walls she built it made me as the reader resentful.  Here is this great hero giving her his all and she can't be bothered.
I love the tropes of this story, a pining hero, a wake married in Vegas, a single mom, all of this is stuff I like.  The writing was good. The timeline of the story was muddled, I did read an early copy and hope the author will tighten that up. 
Overall, it was an ok read.
Book Stats:
Rating 3/5
Standalone
Tropes: Slow Burn, Wake up Married in Vegas, Vegas Wedding, Friends to Lovers, Reformed playboy, single mom, Pining hero, age gap,
Pop: 52%
You can listen to our Quick Shot of Romance Review of Adrift by Swati MH