Hate Me Under the Mistletoe | KellyJamieson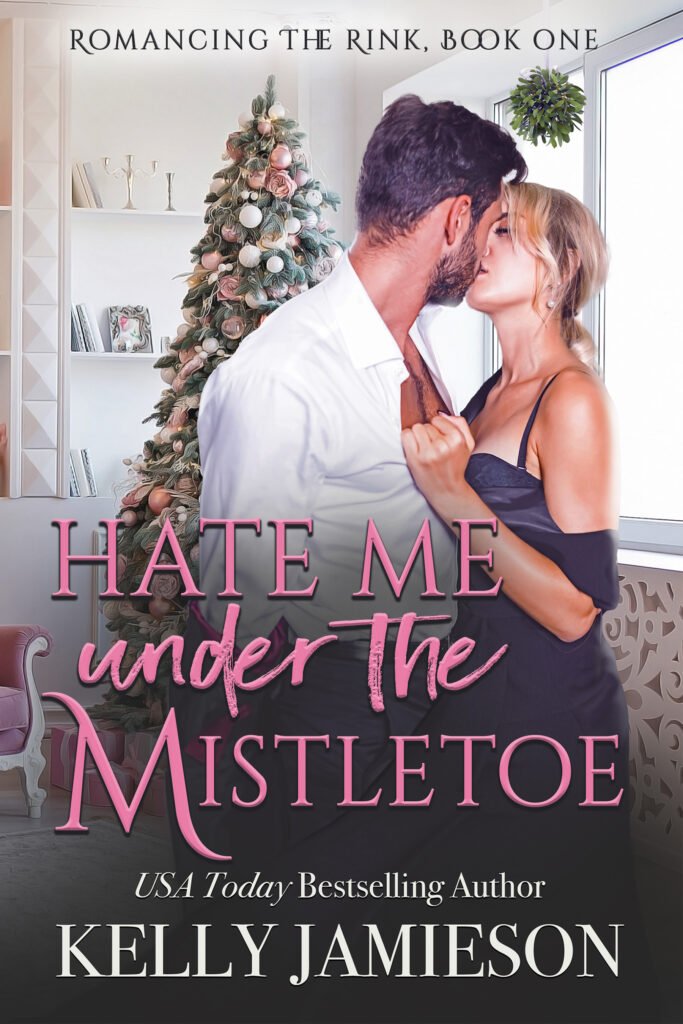 I have long been a fan of the Heller family! I love how Kelly brings her series full circle, and we never lose touch with her families. Amy Heller has been involved in hockey her whole life, it looks a little different than her dad, cousins and brother but she loves the game nonetheless. After finding out her boyfriend was cheating in spectacular fashion and losing hope of landing her dream job she takes off to the mountains to spend some quality time alone. Little does she know a long lost crush also plans on being at the same mountain cabin. Ryer is a workaholic, but loves his family and is looking forward to a little quiet time to rejuvenate before the holidays with his loud rowdy family. Ryder, a former hockey player, was once a billet player living with the Hellers when their lives were turned upside down. Amy had a HUGE crush on Ryder at the time, but he never looked at her twice….or did he.
I literally squealed out loud when I read that Ryder was a billet player. I have been waiting on the edge of my seat for a story like this, and that fact that it comes from one of my all time favorite hockey romance authors is literally the icing on the cake for me. Kelly ALWAYS gets the hockey right and she did not disappoint on this one, friends. These two had instant chemistry and as a reader I wanted to push Amy right into Ryder's arms. I thoroughly enjoyed this grinch/sunshine and role reversal in this story. And let me say, the setting was breathtaking….made me want to pack my family up and move to Vancouver! Once these two got out of their own way my kindle almost melted. You know Kelly can bring the steam, and she did. I loved this book and the look into the Heller family. Amy's dad Tag was my favorite Heller, but don't tell the others! I am looking forward to the rest of the books in this series in this picturesque winter town that loves hockey as much as I do!