From the deck a Book Review Round Up
I got reviews but the sun is shining making it hard to sit at the desk and write them. Here are some brief reviews on recent reads.
What Hurts Us by Maggie Gates
Kindle Unlimited
Tropes: First Responder, Small Town, Meet Cute, roommates, fake engagement,
This book was the perfect balance of fun, sweet and amazing banter. It was a very well done fake engagement trope.
Callum is desperate to get out of a annual date auction fundraiser. Layla is the solution to all his problems- and the person he did not know he needed.
Together this chemistry is off the charts! The story is made all the better with help from soe of the best supporting characters I have read in a long while. The supporting characters add so much to the story. I am still days later thinking about them and hoping they will get books also. Callum and Layla's jobs are a big part of this story, what they do is part of their souls, it is their calling. Add in the small town of Falls Creek and Layla's family this author has me desperate for more. The characters felt authentic. The spice was on point. I am so glad I picked up this title!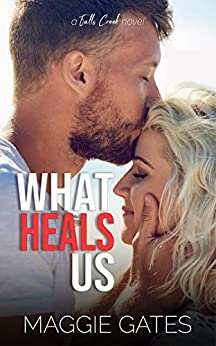 What Heals Us by Maggie Gates
Kindle Unlimited
Tropes: Age Gap, Small Town, Virgin Heroine, Relationship Coach, Chronic Illness, First Responder, Real Body, Book Boyfriend
This book was more than I ever could have hoped for.. Caroline was simple the sweetest, she was elegant strength. I am truly at a loss for words. I am so in love with Austin. This man is what book boyfriends are made of. The care and thoughtfulness that was put into creating this hero was so well done.
There have never been two characters more deserving of an HEA than Caroline and Austin.
The author also gives such a great pov on a person who is chronically ill along with what it is like to have parents that are constantly trying to care for you even when you are an adult. I was drawn into this story from the start and I could not put it down. It made so much sense that the heroine was a virgin. Given everything she had been through it would have been weird if she wasn't.
If you are looking for big swoony love, chemistry that sparks all the feels I can not recommend this tile enough.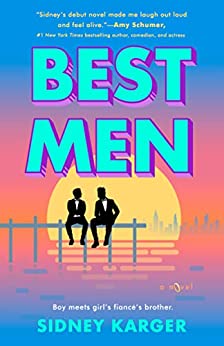 The Best Men by Sidney Karger
Released May 2, 2023
Berkley Publishing – Available Everywhere
I adored this book! It captivated me right from the beginning, and my excitement only grew as I delved deeper into its pages. What truly stood out for me was the author's remarkable wit and humor. The writing style was so enjoyable, and I found myself bursting into laughter countless times.
The romance took a backseat in this story, it didn't bother me at all. Max and his personal journey, encompassing his career, friendships, and, yes, his love life, though not as the sole focus create a well-rounded story.
The slow burn aspect added an extra layer of anticipation, and it was worth it. I wasn't mad about the slow burn at all. Max and Chasten were undeniably adorable together, and their chemistry was off the charts.
This book was a delight and left me impressed. This was the author's debut; I am so impressed with the authors writing and they way they weave a story. This story was developed, and choices made sense. The characters aren't perfect and I did not mind that at all. I think this was a great read if you are just dipping your toes into romance.