POV: Dual 1st Person
PoP: 12%
Tropes: Widower; Instant Attraction; Hockey; Dirty Talking Hero
Series: Pittsburgh Titans
Type of Series: Series of Interconnected Standalones
Rate:  5/5 Stars
Release Date: January 28, 2023
Audio Narration by: Stephen Dexter and Mackenzie Cartwright
Audio Listen Rating: 5/5 Stars
Sawyer Bennett weaves tales that you can't help but look forward to the next book. Sometimes we meet both the hero and the heroine and sometimes we don't. In this case, we have met Cannon West, but have not yet met his lady, Ava Cavanaugh.
Cannon is one of those quiet characters that comes in and you don't get to know a lot. You learn the basics. A widower that stepped away from hockey when his wife got sick. He is a coach that has moved through the ranks to become the youngest head coach for the Titans. But you learn so much more in this book.
One thing that Sawyer Bennett always does right for me is the fact that her characters are real people who have real conversations. Now don't get me wrong, there are characters that make missteps and miscommunications. But these two characters go above and beyond what we usually get. Cannon lives his life with boundaries. He feels that he needs those boundaries (read the book to find out just why) and when he enters into this new relationship with Ava, he is clear about those boundaries.
Ava accepts and revels in the choices that these two make together. That is until the lines are blurred, and decisions are made, and hearts end up broken. When I review a Sawyer Bennett book, I want to shot from the rooftops how amazing it is and give you all the facts and good stuff. But you truly need to read this book to get lost in the emotion. Get lost in the transformation of the fact that sometimes the boundaries one sets for themselves keeps them from what they truly need and want.
We get some great news about a fan favorite player, and little snippets in players from books past, and players form books yet to come. This series just keeps getting better and better.  This is one series that I almost wish I waited until the very end to read because I want to binge it so badly.
If you are an audio listener; it is superb!
I eye ball read this book, and then listened to the audio. This is my first Stephen Dexter book, but his cadence and tone worked perfectly with for Cannon. Mackenzie Cartwright brings Ava to life in the perfect way.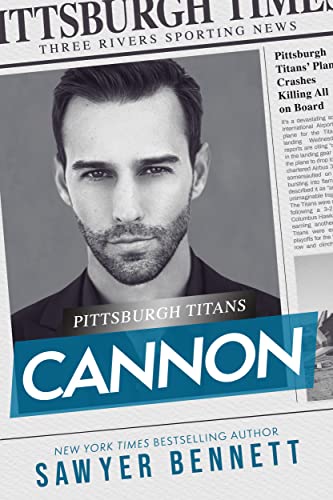 Check out my review for where this series all started!