At First Meet by Carrie Ann Ryan
This Frenemies to Lovers Romance Book from Carrie Ann Ryan will leave you will all the feels and has so much Chemistry.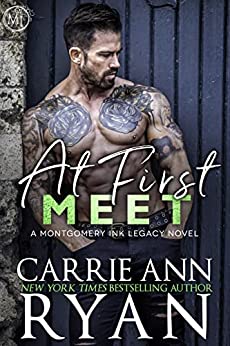 Lake Montgomery is strong and capable beyond measure,  She is a partner at Montgomery Ink Legacy as well as having her own business ventures. She is successful with her success she is paving the way for more opportunities for women in business. 
 Her life is not without struggle.  Her most recent relationship left her emotionally scared. 

Nick Gatlin has been in the fold of the Montgomery family since he was a teen. They have always been his safe place to land. He carries baggage with him mostly surrounding his mother and his feelings of not being worthy. 

The relationship between these two is complicated and so Nick has always loved Lake but their frenemies relationship has not allowed either to move forward.  These two-spark chemistry on the page and really create a dynamic read.  The banter and bickering between these two leads to so much heat and desire between them.   Even with all the tension and desire between them there was never a question as to Nick's feelings for Lake.  The Montgomery Ink Legacy Series is so well done. It is a second generation and with the glimpse at the past it has this feeling of realness.  I found Lake and Nick to be genuine and likeable characters. I like that Lake was smart and not hiding it. She is proud of her accomplishments.  Nick is not afraid of Lake's success instead he wants to do all he can to support her and help her soar. 
Book Stats:
Rating: 4/5
Series: Montgomery Legacy Ink
Tropes: Frenemies to Lovers, 2nd Gen, Family Series, Co-workers, Close Proximity,
CW: Previous Assault off page.