Bad Boy's Downfall by Gina Azzi
A Bad Boy's Downfall by Gina Azzi is book 6 in the Tennessee Thunderbolts series.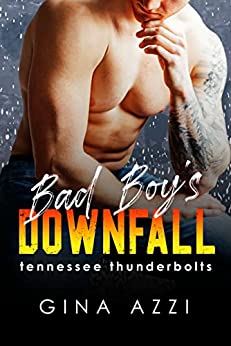 A Book that packs a whole lot of punch!  There is so much to unpack in this story.  What a reader needs to know is that this is the best in this whole series.  River and Lola have been teased since book 2 and it is everything, I wanted for them and more. The emotions in this book are so raw. The author weaves a story that has rooting for this couple and wanting nothing but love and joy for them.
River is the bad boy of the team. While in previous books we just reviewed him as stand offish and an asshole there is a reason, he hold people at a distance. River is complex and not without flaws but these are forgivable flaws.
Lola is just getting ready to embark on her future.  The daughter of a hockey star who had her way to young Lola desires a time in her life where she is can put herself first without worry of how it will affect her parents. 
Lola and River have a big mountain to climb to find their forever, but they're up for the challenge. And as much as they both worry and hold things in, they are so not great at communicating their feelings to each other. I struggled the most with Lola on this.  River has a reason he did not trust or voice his feelings; Lola just did because she was scared and unsure. 
This is the last book in this series and to be honest it is not my favorite from the author. Coming off the dynamic series of the Boston Hawks this series feel felt often. I am glad I too the chance to read this final book as this is the kind of story telling I have come to expect from the author. The characters are rooted in a realism that brings them to life for the reader.
If you are on the fence about reading this series just skip right to this book. 
Book Stats:
Rating: 4/5
Series: Tennessee Thunderbolts
Tropes: Hockey romance, sports romance, Forbidden, teammates daughter, New Adult, Virgin, found family,