Naughty and Nice by Mari Carr – A Steamy Prelude to Holiday Romance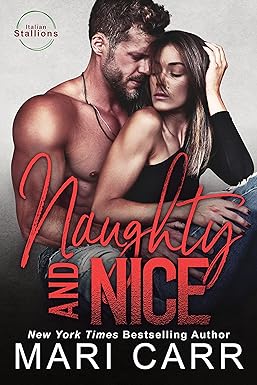 Mari Carr's novella, "Naughty and Nice," serves up a tantalizing concoction of holiday romance with a dash of spice. Set against the festive backdrop and society fundraiser. The story introduces us to the sizzling dynamic between co-workers and advisories Liza Morelli and Matt Russo.
The narrative weaves together familiar tropes of close proximity, workplace rivalry, and the classic enemies-to-lovers theme fueled by a family feud. What sets "Naughty and Nice" apart is the scorching chemistry between Liza and Matt. The tension builds steadily, creating a palpable sense of anticipation that keeps readers eagerly turning the pages.
The novella hits all the right notes for a steamy holiday read, with a particularly memorable moment—their first kiss in an elevator. Carr skillfully captures the intensity of the moment, making it a highlight of the story. The close quarters and the underlying tension between the characters make this encounter electric, leaving readers with a delightful sense of anticipation for what comes next.
As the protagonists navigate the complexities of their professional and personal lives, Carr expertly infuses humor and heart into the storyline. The holiday spirit serves as a charming backdrop, adding warmth and a touch of magic to the unfolding romance.
"Naughty and Nice" is a quick and delightful read for fans of holiday romance, offering a perfect blend of festive cheer and steamy passion. Mari Carr's skillful storytelling and the undeniable chemistry between Liza and Matt make this novella a great prelude to what promises to be a captivating romance.
Book Stats:
Rating: 4/5
Trope:  holiday romance, close proximity, co workers, rivals to lovers (family fued) , one night stand, cliff hanger 
Series: Italian Stallions
Does not pass the Die Hard Test
Put out percentage: 54%