Fractured by Riley Edwards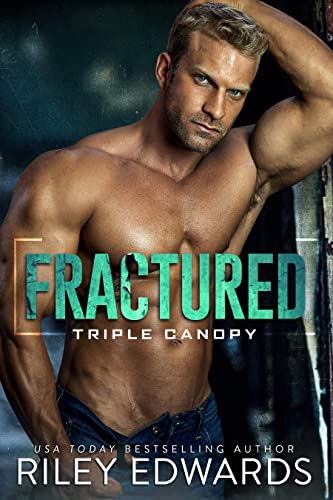 POV: Dual 1st Person
PoP: 21%
Tropes: Second Chance; Protector Romance; Damaged Hero; Spin-Off; Age Gap
Series: Triple Canopy Book 8
Type of Series: Series of Standalones
Rate:  5/5 Stars
Release Date: April 25, 2023
When I first met Echo Kent in the book Imperfect, book 3 of this series, I knew his story was going to break me in ways I didn't expect. And I was not wrong. Riley Edwards broke me about 8% into this book and continued to do it over and over again.
Jaclyn Haines and Echo Kent are destined to be together. These are two halves of a whole. Jackie is the missing piece of Echo. The missing piece to the Kent family. But Echo Kent is not accepting of this. This is a man that doesn't feel he deserves his happy. The man who feels he is worthy to protect those around him, but not allow him to be worthy.
Jackie is a woman who has lived through tough times. But she has a family that has rallied together. And she knows that Echo Kent is her end game. She is willing to do what she needs to make Echo open up. Those around Echo and Jackie see and show her that he needed pushed. Jackie is strong heroine that knows and understands Echo on a cellular level. She knows what he needs and when she sees his truths that he refused to show, she doesn't hold back.
Honestly, I am having a hard time putting into words just how amazing this book is. It is an overflow of emotion, but the story doesn't slow down from the start. There are so many moving parts that you are at the end of the book before you know it. I adored this story and this entire series draws you in without wanting to let go.
And Tim friends… IYKYK
Want reviews on the other Kent siblings?
Pheonix Kent and Wren Cunningham