Silent Lies by Neva Altaj
**Silent Lies** by Neva Altaj is a captivating mafia romance that combines elements of age-gap, enemies to lovers, and a web of deception and lies on both sides. The story is shrouded in secrecy, keeping readers on the edge of their seats.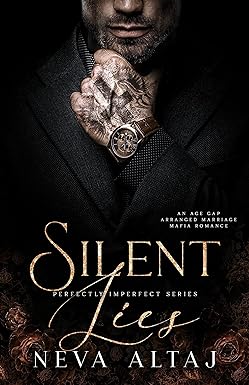 Neva Altaj skillfully reimagines the classic Mafia trope of an arranged marriage, and through the lens of Sienna, the quirky heroine, and her brooding husband, Drago, she takes readers on a thrilling and heartfelt journey.
Sienna, the twin sister of Asya, finds herself in a challenging situation, strongly persuaded by her Don to marry Drago for the sake of their family. Haunted by guilt over her sister's fate, Sienna believes it is her duty to fulfill this arrangement. However, her role goes beyond marriage; she is tasked with spying on Drago's home and operation, requiring her to learn a new language and put on an act that keeps Drago off balance while she gathers critical information.
As Sienna and Drago navigate their complex arrangement, neither is prepared for the unexpected feelings that develop between them. What starts as a mere business transaction soon evolves into something deeper. Sienna is faced with difficult choices as she grapples with loyalty to her old family versus her newfound one.
Neva Altaj's talent shines through in her portrayal of mafia romance, and "Silent Lies" offers an engaging experience. This particular installment distinguishes itself by its insertion of lighter tone but has the authors hallmarks of heavier themes. The sweeter tilt in this story was a refreshing change and allowed readers to appreciate the softer side of the characters.
One can't help but fall in love with Drago's compound, brimming with the warmth of his people and family, much like Sienna herself does. The novel includes heartwarming moments, such as awkward bed sharing with cuddles, amusing encounters involving crazy yellow outfits, and endearing guard dogs that will surely capture your affection.
For those who have enjoyed Neva Altaj's previous novels, "Silent Lies" will undoubtedly be a satisfying addition to your reading list. It offers a delightful blend of romance, humor, and memorable moments that will leave you thoroughly enchanted.
Book Stats:
Rating 5/5
Release Date: October 19th, 2023  
Trope: Mafia, Deception, Age-gap, Enemies to lovers, forced marraige, possive alpha hero, oppisites, protector  
Series Name: Perfectly Imperfect Series  
Type of Series: Standalones  
POV: dual 1st person  
Put out percentage: 47% 
3rd act break up No  
CW: from the author- Please be aware that this book contains content some readers may find disturbing, such as mentions of an immediate family member's death, as well as graphic descriptions of violence, torture, and gore.