Man Scape by Vanessa Vale
A Sizzling Small Town Romance – "Man Scape" by Vanessa Vale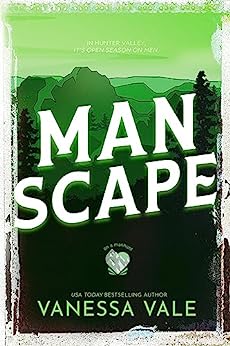 "Man Scape" by Vanessa Vale takes us on a journey to a small town filled with big personalities and even bigger secrets. In this charming story, we meet Daniel Pearson, the rugged owner of Pearson Tree Service and the official lumberjack of the town, and Melly, the reserved and curvy town librarian with a complicated family history.
Daniel and Melly find themselves in a unique contractual relationship, but their fear of rocking the boat leads to a lack of communication that could hurt them just as much as it could help. Enter Danny Pearson, Daniel's son and Melly's ex, who unintentionally becomes the voice of reason and the wood chipper of justice, creating moments of humor and family bonding that will have you chuckling.
One of the highlights of this book is watching both Daniel and Melly discover what they truly want out of life. Melly, who may not be as serious and sweet as everyone thinks, has a deep love for her job and her grandmother, along with a complicated relationship with her mother (don't we all). When she meets Daniel, a man who ignites a passionate spark within her, lines are crossed, and their connection is undeniable.
Daniel, having just sold his business, is ready to embark on a journey of self-discovery and adventure. Little does he know that meeting Melly just days before his trip will change the course of his life forever. The chemistry between the two is off the charts, making this a page-turner in every sense of the word.
Of course, the book also delivers on the laugh-out-loud banter we've come to expect from this series, along with the dysfunctional family drama and supportive friends who make appearances throughout. "Man Scape" is another entertaining addition to the series, and it's clear that Vanessa Vale knows how to keep readers hooked.
"Man Scape" is a sizzling small-town romance that explores the complexities of family, love, and self-discovery. With its undeniable chemistry, laugh-out-loud moments, and entertaining cast of characters, this book is a delightful addition to the series, and I thoroughly enjoyed every page. If you're a fan of small-town romances with a hint of humor and a lot of heart, Vanessa Vale's "Man Scape" is well worth the read. 
Book Stats:
Rating: 4/5
Series: On a Man Hunt
Standalone
Trope: Small Town, Single Dad,Ex's Dad, Real Body Heroine, sex toys, Grumpy Sunshine, Rom-com
Other Reviews in the Series:
Man Hunt
Man Candy
Man Cave
Man Splain