Heartless (Chestnut Springs #2) by Elise Silver 
"fucking hot. He's always been hot, but I wasn't so sold on his personality. A shit personality can really ruin an otherwise hot dude, but there isn't anything wrong with Cade's personality. He's just slow to warm up. A little chilly."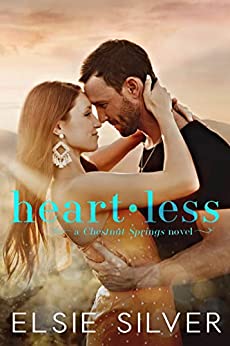 This is book 2 in the chestnut Springs Series. I do think these books can be read as a standalone. This was a quick and easy read. The author did a great job of showing us these very complex characters and their evolution to the HEA.  
Cade Easton is a single dad to son Luke. Luke is a spit fire. Since Cade's divorce from Luke's mom he has been living for the day to day. Luke is his number one priority and then the family ranch. Cade is so complex. There is so much to his character and why he is such a grump. The spends a lot of time on who Cade is, his backstory, why he tends to be a loner and his family dynamic.
Having read book 1 I knew that Cade was going to be one of those hard characters to fully embrace, but we do get there it does time which plays into the slow burn of the romance.
Willa is so different. She comes off as smart and sassy. She is happy just living and being herself and following her heart. The author does not spend as much page time developing Willa. There are a couple of things that are missing for us to connect and see who she is underneath her sunshine. She is an okay character. The author just left a lot of strings untied that I think would have helped us as the reader get to know her better. I think Willa's character growth was a straight line. I just wanted more from her.
Cade's use of an age-gap being why he did not pursue Willa first was annoying. There is a 13 yr age difference. It makes sense somewhat because his ex-wife was bored with ranch life but they were close in age. I just needed more understanding of why this was dragged through the whole story. I do think the author was trying to add some angst to help feed the chemistry between the characters. I don't know that it was needed I think the close proximity did that very well.

This story has great chemistry and great banter. I enjoyed the story overall. The setting was well done. Pages at times did feel crowded with family and supporting characters. I know that it is set up for the rest of the series but it was confusing at times keeping track of everyone. I don't think the characters were as dynamic as they could have been I know some of that has to do with the author being newish.
Book Stats:
Rating: 3.5/5
Kindle Unlimited
Series Type: Interconnected Standalone
Tropes: age–gap, close–proximity, cowboys, grumpy-sunshine, nanny, opposites, single–dad, slow-burn, small-town, surprise pregnancy,
You can find my review for book 1 here