Coming Home for Us by Carrie Ann Ryan
Coming Home for Us by Carrie Ann Ryan is an emotional tale that leaves you with big feels and wanting more.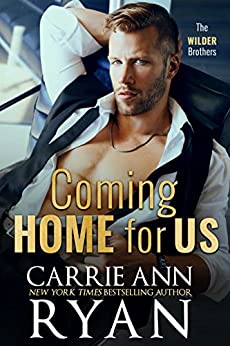 Carrie Ann Ryan's Wilder Brothers series follows six ex-military brothers who open a luxurious winery and resort, while unexpectedly finding love. Coming Home For Us is the fourth book in this series, and it's a emotional romance between Maddie and Elijah.
The story explores grief, moving on, and the power of friendship. The author portrays both characters' perspectives with depth and understanding, allowing the reader to empathize with their struggles. The Wilder family's dynamic is also enjoyable to watch, as they support each other while also keeping one another in check.
Maddie is a strong and determined character who refuses to settle for less than she deserves, even if it means letting go of her feelings for Elijah. Elijah, on the other hand, is a good man who is grappling with his past trauma and the possibility of opening up to new love.
The intense emotions between these two characters are palpable. The story deals with hard topics such as loss and grief and how to find hope after tragedy. The author's skillful storytelling makes this a compelling read.
I love a girl gang in my romances and this series has a great one. The female characters are a delightful, and adds a fun dynamic to the story. Overall, Coming Home For Us is a must-read for romance lovers.
Book Stats:
Rating 4/5
Series: Wilder Brothers
Trope: best girlfriend, boss, close proximity, co-workers, damaged hero, dirty talker, family series, foodie, found family, friend group, one bed, pining for her, read, second chance, wine and dine