By Sin I Rise II | Cora Reilly
Fans of Aria and Luca have long anticipated Marcella's story. She was always revered as a princess, almost untouchable. And in By Sin I Rise readers learned that she is as fierce as her father and should be feared. It would take a strong man to not only love Marcella, but to stand up to her father. The question is Maddox the man for her. Can he love her the way she needs to be loved, but also be trusted and respected by the made men of the Famiglia. This book really drew attention to just how much how things look or are perceived play into the role of a mafia family, and just how much they are judged. Marcella may have been a wallflower that kowtowed to others' judgments of her, but with Maddox at her side she stands tall. And the men of her family follow suit.
I wasn't sure the path that these two would take, and when book one ended I wasn't surprised. I can see where they both might need some time….even if time apart hurts. I was hoping that in the end that it would make them stronger. In the end I pity the people that ever doubted Marcella and Maddox's connection. The road that these two are on is not easy, and there are a lot of obstacles in their way, but love endures. And not only the love the two have for each other but the love of family. Luca was never my favorite Capo of Cora's families, but I have a new found love and respect for his character. He has built a strong family that is built on trust and love. But he also allows those around him to be themselves which in turn makes the famiglia stronger.
Do yourself a favor and pick this book up. If you enjoy dark and gritty romance with a fair amount of angst then this should be your next read. However, this is book two and you will have to read book one to fully understand the characters and their experiences.
When Marcella Vitiello was born into the Famiglia she was born a princess, and she would become a Queen.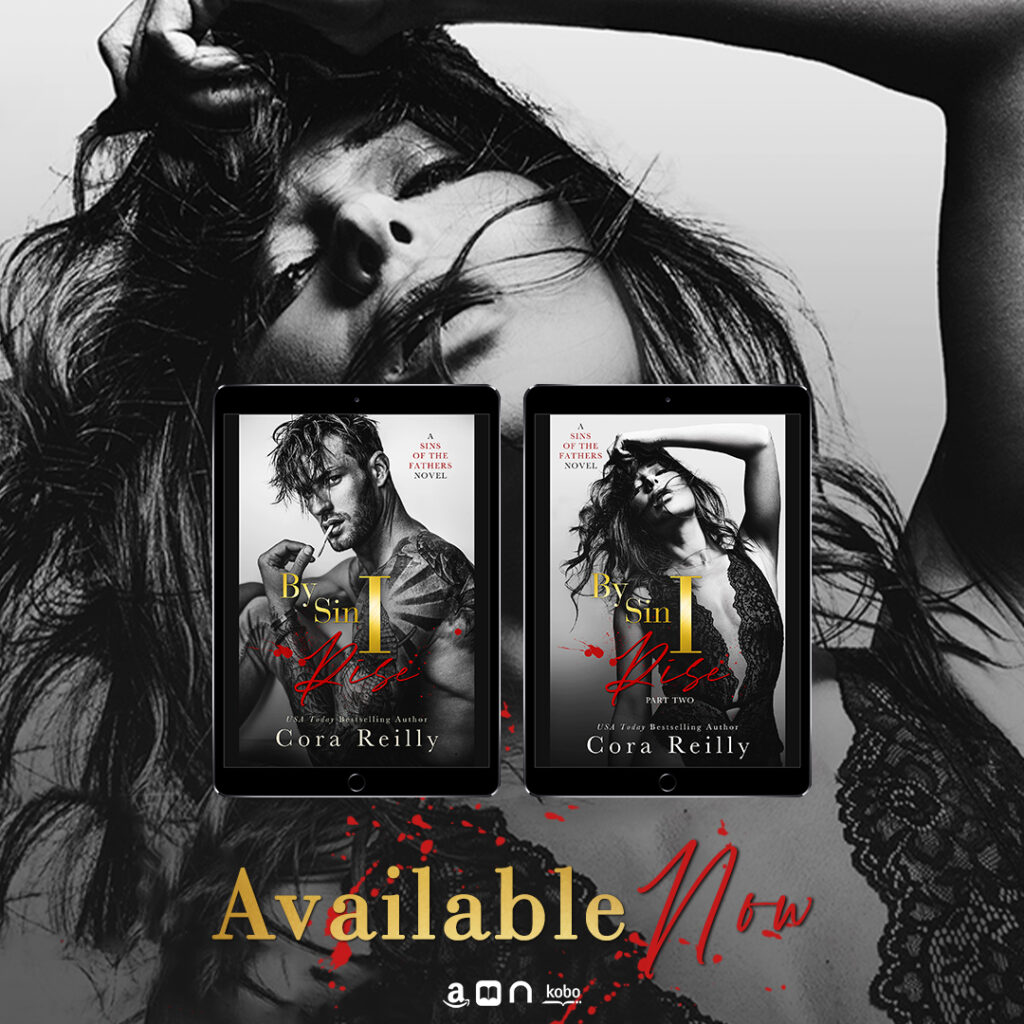 A fatal bond that was never meant to be.
By Sin I Rise Part 2, the intense, highly anticipated finale to the By Sin I Rise Duet from USA Today bestselling author Cora Reilly is available now!
A fatal bond that was never meant to be.
Marcella gave Maddox the impossible choice, and he chose her.
Still, she wonders if Maddox is ready to commit to a relationship, or if he's scared of losing the uninhibited freedom his biker lifestyle offered him.
All his life Maddox knew who his enemies were, but suddenly he's at a loss whom to trust. Will he ever find a place in Marcella's life and family, or will old companions give him a new home and purpose?
Can enemies ever truly become lovers if the odds are against them?