The Summer I Saved You by Elizabeth O'Roark
"The Summer I Saved You" by Elizabeth O'Roark is the second installment in The Summer Series, and it presents a contemporary romance story with elements of angst and a longing for love. While this book is loosely connected to the series, it functions perfectly as a standalone, and readers can delve into this tale without any prior knowledge of the first book.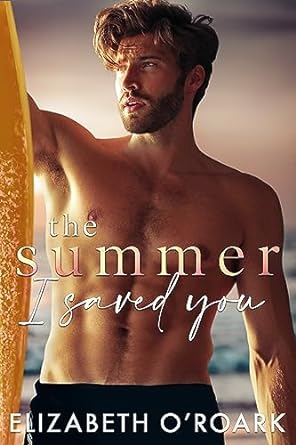 The narrative primarily revolves around Caleb, a wealthy businessman with a troubled past that is beginning to affect his professional life. The repercussions of his struggles are noticed by those around him. Then, we meet Lucie, a single mother of twins who has recently escaped a controlling and unsatisfying marriage. Lucie moves into a house from her childhood summers, nurturing the hope that the boy she once had a crush on might reappear and become her knight in shining armor.
The story is marked by a unique blend of attraction, painful pasts, and the challenges of single motherhood. Lucie's journey is one of rediscovery and healing, as she grapples with her past relationship's emotional abuse and infidelity. The potential for character growth and retribution for her ex-husband's actions is evident, but the story often focuses more on the undeniable attraction between Lucie and Caleb than the deep exploration of their individual histories. There is a humanity to the way the author tells that story.
Lucie's character is relatable to many single mothers, but at times, she may come across as a pushover. However, her character development is a work in progress, and readers may find it helpful to view her journey as an ongoing one.
Caleb, on the other hand, is a complex character. His inconsistent behavior, switching between disinterest in his employees and genuine interest in Lucie's twins, may leave readers somewhat conflicted. He ran hot and cold through out and at time it was a struggle to embrace his character and roll in the book. Yet, his reluctance to confront his own past remains a point of contention.
While the book displays potential for deeper exploration of the characters' struggles, the narrative's pacing often feels stilted, preventing a more profound examination of their emotional scars. Instead, the story leans heavily on the magnetic attraction between Caleb and Lucie.
Despite its shortcomings, the book shines in its setting and the potential connection between the characters. The natural chemistry between them and their efforts to make their relationship work offer enjoyable moments. However, the story may lack the intense push-and-pull angst that some readers might expect from a romance novel.
One intriguing aspect of the book is the teaser for the next installment, hinting at more angst and potential complications among friends, piquing readers' curiosity.
In conclusion, "The Summer I Saved You" is a single mom romance with elements of workplace relationships and close proximity, making it an appealing read for fans of these genres. The children in the story add depth and charm, and the lake house setting offers a delightful backdrop. While the characters and their journey fall short of certain expectations, there is still a lot to appreciate in this novel. Give it a chance if you enjoy stories of love and healing amidst the challenges of single motherhood.
Book Stats:
Rating: 3.5/4
Tropes: boss, childhood-friends, co-workers, close-proximity, damaged-hero, level-3-steam, neighbors, opposites, possessive-alpha-hero, single-mom, single-parent
Series: The Summer #2 – standalones
Pop: 51%
3rd- Act Break Up- Yes

Review for Previous book in the series:
The Summer We Fell