The Forever Formula by Kendall Ryan
It has been a minute since I have read a Kendall Ryan Book. I was excited to see she was writing a small town series. I am intrigued about the beginning of a new series Kodiak Canyon.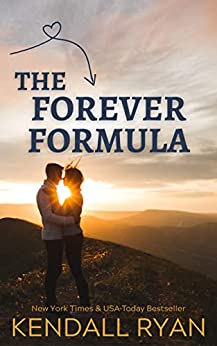 The Forever Formula is a delightful, charming second-chance romance. The story follows Rachel, a nurse from Houston, who returns to her childhood home after her grandfather's passing. She finds herself living next door to Noah and his family, whom she knew when they were younger.
Rachel is a strong, independent woman who takes charge of her life, and it's inspiring to watch her evolve throughout the book. The town of Kodiak Canyon, along with Noah, helps her heal her heart and find joy in life. It's a beautiful reminder that sometimes, home is where the heart is.
Noah, the male lead, is a sweetheart who's able to move past the hurt of Rachel's departure and trust her once again. Their second chance at love is heartwarming, and watching them grow and evolve throughout the book was done well.  
Their story is a slow burn romance, with a touch of second chance, but ultimately a friends-to-lovers tale. What I appreciate about this book is its low angst with relatable characters and an authentic storyline that had me rooting for each of them.  
It's a captivating small town second chance romance featuring a brooding and handsome brewer and a kind-hearted nurse, along with a cast of charming neighbors, small town gossip, and touching tributes to lost loved ones.
The slow burn romance builds up to some steamy moments, with a few misunderstandings and jealous exes thrown in for added drama. I struggled most with the slow burn and the misunderstandings that seem to pop up. I did not get the full chemistry of their attraction and struggled with wanting more. But fear not, the story concludes with a heartwarming happily-ever-after that will leave a lasting impression on your heart. 
Book Stats:
Rating 4/5
Series: Hart Brothers book 1
Series of Standalones
Tropes: small-town, second-chance, slow-burn, opposites, friends to lovers,