The Dragon's Affirmation by Marie Johnston
"One, I slept like shit and didn't hear anything until you were driving away. And two, you got one sentence from me because I was trying not to ravage you like a horny beast."
The Dragon's Affirmation by Marie Johnston is the final book in the dragon shifter series and it was worth the wait. Memphis Peridot is a woman who you don't really know what to expect. In previous books, (which you do not need to read) she comes across almost cold but when you read this book you find that isn't the case at all. She is a woman who has the weight of an entire community on her shoulders. Yes she had her brothers to help with the burden but she takes most of it on herself. Memphis is so much more than expected.
Vaughn is the older brother of Cricket, the heroine from book 2, and he has be forced into a mating with Memphis because of things that he witnessed. He isn't dealing well with his situation, and it's understandable but he comes across as extremely selfish. He refuses to open up to Memphis or even allow her to be a part of his life for a long time.
For a big part of the book, it seems like a losing battle and they won't ever make strides in the right direction. But it does happen. Memphis allows her self to be fully vulnerable and lets Vaughn see that she is more than he imagined. Vaughn took a while to like, and honestly I wasn't sure if he was going to be redeemable in the end. But finally listens and sees that not everything is so black and white.
I am sorry to see the end of this series it has been a wild flight.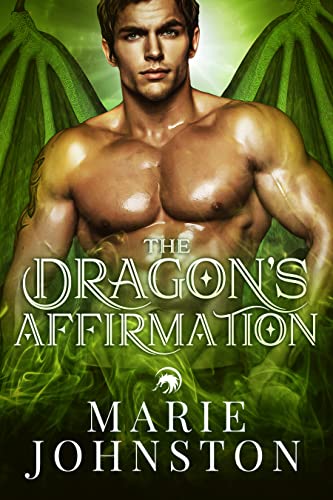 POV: Dual 1st Person
PoP: 54%
Tropes: Forced Mates; Dragon Shifter; PNR; Small Town; Forced Proximity
Series: Peridot Dragon Shifters book 3
Type of Series: Series of Standalones
Rate:  4/5 Stars
Release Date: May 11, 2023
Want to read my thoughts on other Dragon Shifters by Marie Johnston? Here are some of my reviews.
The Dragon's Oath (Book one of the Silver Dragon Shifter Brothers)
The Dragon's Pledge (Book one of the Jade Dragon Shifter Brothers)
The Dragon's Word (Book one of the Peridot Dragon Shifter Brothers)