Stranded with a Cowboy by Stacey Kennedy
Get ready for a wild ride with Stranded with a Cowboy, the latest novel from bestselling author Stacey Kennedy.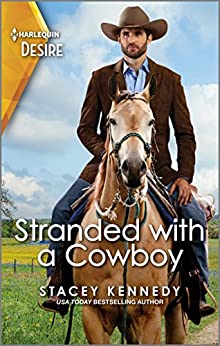 Oh my goodness, let me tell you about the juiciest, most steamy love story that will leave you begging for more! It's all about the oh-so-dreamy Beau Ward, the heroic younger brother of the infamous Colter, and his sizzling hot romance with Adeline's best friend, Nora Keller.
You see, Beau wanted to help his brother out by taking the spotlight and stealing the attention away from his brother's love life. But little did he know, things would backfire and he'd be left longing for the peace and quiet he once knew. That is, until Nora came along with a daring proposal. They could have some no-strings-attached fun until the wedding, no harm done.
But here's the thing, my friends. Devil's Bluffs has a special power over all those who visit. Love is in the air, and it certainly wasn't immune to Nora and Beau's wild, passionate romance. Even after all they had been through, could they give love a chance?
Let me tell you, this story is an absolute thrill ride. The plot is packed with twists and turns, and the romance scenes are hotter than the flames of hell. But it's not just steamy fun – there are moments of raw emotion that will leave you clutching your heart.
The characters are absolutely to die for. Nora and Beau are a match made in heaven, with chemistry that sizzles off the pages. And don't even get me started on the family gatherings. Those sweet moments of family togetherness will leave you feeling warm and fuzzy inside.
So if you're looking for a wild ride filled with passion, love, and family, then look no further. This story will leave you breathless and wanting more.
Book Stats:
Rating: 5/5
Series: Devil's Bluff
Tropes: Cowboys, small town, close proximity, single dad,
Review for Book 1