Happy Hour with Veronica Eden
Join Becky and Heather for a Happy Hour with author Veronica Eden. We are celebrating her latest release Iced Out.
When:Thursday May 18, 2023
Time: 8:30p est
Where: The Youtube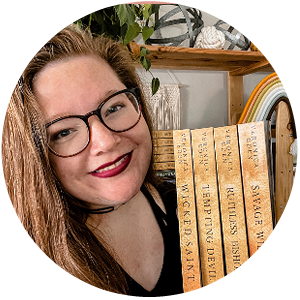 Meet Veronica
Veronica Eden is a USA Today & International bestselling author of addictive romances that keep you up all night falling in love with spitfire heroines, and irresistible heroes.
She loves exploring complicated feelings, magical worlds, epic adventures, and the bond of characters that embrace us against the world. She has always been drawn to gruff bad boys, swoony sinnamon rolls with devastating smirks, clever villains, and the twisty-turns of a morally gray character. When not writing, she can be found soaking up sunshine at the beach, snuggling in a pile with her untamed pack of animals (her husband, dog and cats), and surrounding herself with as many plants as she can get her hands on.
Connect with Veronica
https://www.instagram.com/veronicaedenauthor/
https://www.facebook.com/veronicaedenauthor
https://www.amazon.com/stores/Veronica-Eden/author
https://www.tiktok.com/@veronicaedenbooks
https://www.goodreads.com/author/show/19791446.Veronica_Eden