Stay Together by Kaylee Ryan
Stay Together by Kaylee Ryan is book 4 in her small town family series, The Kincaid Brothers. I actually think it is the 6th as the story kicks off with Never with Me, a Kincaid Cousin and there is a Novella about the oldest Brother.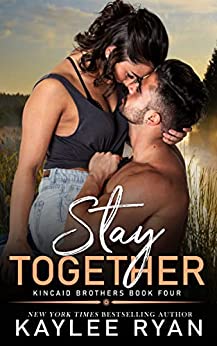 I enjoyed this story so much. This sweet and entertaining romance novel has wonderfully crafted characters and a heartwarming storyline that can be appreciated by all romance readers. This book is a delight, full of small town and big family feels.
Rushton, quickly won me over with his swoon-worthy personality and dedication to proving to Crosby that he's the right man for her. At the same time, he was mindful of her feelings and took things slowly, not wanting to push her too hard.
Crosby was a bit of a harder character to love. She has trust issue that are not unfounded I just wish she had maybe trusted in herself more or leaned into Rush a bit. Her reasons for going slow make sense. This is the second book in a short time where the FMC has trust issues and take almost the whole book to get to the the point that they have enough confidence to believe in themselves and the love offered to them is valid.
There is plenty of tension and chemistry in this book. The Kincaid Family moto of "Love Harder" really comes to life in this book. I think that Rush did all the heavy lifting in this book. He was the one driving to the HEA. He put in the time and effort. These are the type of MMC I l really do enjoy.
Although I also loved Crosby, it was the delightful Blakely, a little girl with a knack for clever one-liners, who really stole the show for me. With all the emotions that this book evoked, I would highly recommend it to anyone who enjoys a slow burn romance with big complicated families.
Book Stats:
Rating 3.5/ 5
Tropes: Family Series, Small Town, Slow Burn, Instant Connection, Pining for her,
Series: Book 4 in the Kincaid Brothers
Pop:54%
Other Reviews in the Series:
Never with Me
Stay Over – Book 1
Stay Forever– Book 2
Stay Tonight – Book 3