I need you to stop right now and answer some questions.
Are you are reader or an author?
Please remember this is a READER'S SPACE. REVIEWS ARE FOR READERS
The following reviews are mine and are for fellow readers. I am honest to a fault and am taking the time to express my thoughts on why these titles did not work for me. That does not mean that others might not love these titles, I just didn't .
Last Call by Jillian Neal
Publish Date: 9/24/2017
Kindle Unlimited
I really have enjoyed this series. It is really well written. But at 54% of this book I was not invested. There were so many unsaid things and assumed things between the couple that I found it hard to stay engaged. I wanted the emotions of this book but the fact that everything was done without them really talking about the underlying issues it made the story boring. I just gave up. I might come back but for now I am done.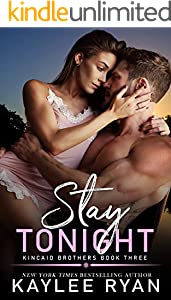 Stay Tonight by Kaylee Ryan
Publish: 1/10/2023
Do not take my DNF as a reason not to read this. I really enjoy this series. The Kincaid brothers are a hoot. I really love them all. This book gave some insight into the the younger brothers. What did not work for me in this book and the ultimate reason for me not finishing is it is Friends to Lovers. I am not a fan. I adore this authors stories so I thought I would give it a try but it just did not work for me. This is totally a ME PROBLEM and not a writing or author problem. What I could not get past in this book is that both Sterling and Aylssa never saw themselves as anything more than friends. That is until all of their family members and friends starting pushing it. The idea was not theirs; it was more of peer pressure to final "see" each other. The whole "Everyone sees it but you", has to have some kind of organic reason. This felt like the author has these two characters wanted to tell their story but took the easy way. It just did not work for me.
This book is for those that love longtime friends to lovers romances and that just isn't me. I thought since I have loved the other's previous stories that I am sure that this would be fine for me, it wasn't. I am sad and it makes me grumpy because I love both these characters in the previous books. I just don't think they had that spark or chemistry I need to make believe in their connections.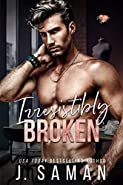 Irresistibly Broken by J Saman-
Publish Date: 1/2/2023
This story is broken. This is book 1 in a new series from the author and it just did not grab hold of my attention. I picked it up and set it aside 6 times. Each time I was mad that I kept reading. The author is doing a lot of world and character with Flashback but this before we even "know" these characters. I DNF'd at 46% and I still don't know who Zaxton or Aurelia are. I have a few ideas what lead up to this point but there is this fractured story telling along with a secret we as the readers don't know.
I love an asshole but Zaxton is just a jerk. By 46% I should have seen something redeeming even a glimmer but I hadn't so I gave up. There is a nuance to writing an "Asshole" or "grump" and this book lacks that.
The nature of a book 1 in a series we get lots of names dropped and are meeting a lot of new characters who may or may not be important to the rest of the books in this series. However, because of this being a co-worker troped book we are meeting too many people! Pages are crowded, chemistry is diluted and I lost sight of the main couple. I am sad that I did not love this. I am not sure where I go from here. Maybe my expectations are too high? I just know for now this book just lacked to much for me to continue on.
The book was well written it was the craft of the storytelling that was a miss for me. There is start of the chemistry but there were some characterization and actions that had that quickly fizzingly out for me.
If you have questions please email us or submit via our contact form.