Special Kind of Twisted by Lani Lynn Vale
Lani Lynn Vale is an automatic pre-order/one-click author for me. Special Kind of Twisted is one I have been impatiently waiting to drop onto my kindle. There is something about her stories and the risks she takes that I love. I don't love every character. I don't love every story, but it never fails to pull me out of reality and into a different world.
Special Kind of Twisted is the story of Kyle Davis and Greer Ortiz. These two have a mutual best friend… but they are not friends. But as they say, there is a thin line between love and hate. This story is actually fairly tame compared to some of LLV's other books. Both characters are fairly even keeled without any neurospiciness that her characters sometimes lean towards. Neither have any underlying health issues but they do of course have some ticks and quirks as all human being have.
These two are like oil and water but at the same time they are so much alike.
They both recognize that without their friend Sara their lives might be completely different. Sara is almost a roadblock for them, and as you read the book you understand why. This is part of a series, but you do NOT need to read the rest of the books to have a good understanding of just who Greer and KD are as characters.
The series may say it's an MC romance… but truly the only MC aspect is the fact that they ride motorcycles. This story gives you suspense, humor, and romance all mixed together. LLV often takes risks with her books, but this one is definitely tamer and not as outlandish as some of her others. Honestly, one of my favorite parts of these books are her chapter headings. LLV has tied this one into one of her old series in a interesting way, and leads us with the characters of the next book that I am exited to see where she takes it.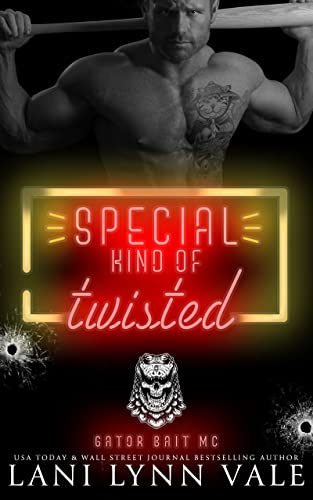 POV: Dual 1st Person
Put out percentage: 37%
Tropes: Enemies to Lovers; Ex-Con Hero; Heroine in Danger; Forced Proximity; Spin-off;
Series: Gator Bait MC Book 6
Type of Series: Series of Standalones
Rate: 4/5 Stars
Release Date: May 23, 2023
Is there a 3rd act break up: No
A Top Quote
"Did you know that, for an extrovert, they get their proverbial cups refilled by being out and about, socializing and living their life around people? Meanwhile, an introvert's cup becomes full while they are alone and able to recharge. When they're at a party, or being social in some way, their cup starts to run out. And eventually, we hit a point where we no longer have the energy to be in that situation anymore. We need to be alone to recharge." She looked at me. "Are you extroverted?"
Check out where the Gator Bait Series starts: