Sins of the Son by Zoe Blake
Sins of the Sonis a Gripping Tale of Redemption and Betrayal by Zoe Blake
"Sins of the Son" is a heart-pumping thriller by Zoe Blake that will take you on a rollercoaster ride through betrayal and heartache . This gripping tale of redemption and betrayal follows the story of a man who must choose between his heart's desire and her hatred for him.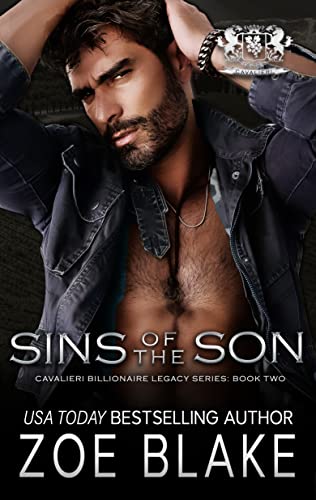 The Cavalieri Billionaire Legacy series is an absolute triumph, and with each new installment, it gets better and better. I cannot tell you how much I am anticipating the next book. Secrets of a Brother follows the captivating Enzo on his journey.  
Sins of The Son, the latest entry in this mesmerizing family saga.
It is a delicious friends-to-enemies-to-lovers romance that will leave you swooning.  
Cesare Cavalieri and Milana are a match made in heaven, their chemistry crackling with electricity from the very first page. Their passionate and intense love story will leave you breathless, and the masterful writing will leave you begging for more.
Miliana is such a deep and complex character. The way the author peels back Milliana's mask. The reader see beneath her very carefully constructed mask was so well done. I was team #Miliana from the start.  
Ceasare is a character that is so possessive and so controlling. His obsession in his pursuit of Miliana was intense. I do feel with the way Ceasare demands that Miliana let go of her trauma at times was hard. I was very frustrated with his character. His single mindedness almost does more damage to the characters in the story than endears himself to the reader.  
But this is not just a simple romance. There is an ongoing secondary plot adds a layer of suspense. A mystery that will keep you on the edge of your seat until the very end. I really did enjoy this story, but it isn't going to be for everyone. There is a lack of sexual consent but also where Maliana lives and how she goes about her life.  
I am all in on the Cavalieri Family Saga. This is a saga that will have you invested in all the characters. I cannot wait for Secrets of The Brother to come out. I am certain that it will be just as stunning as the rest of this remarkable series. Zoe Blake has truly outdone herself with this one, and I cannot recommend it enough.  
Book Stats:
Rating: 5/5
Series Cavalieri Billionaire Legacy
Tropes: Billionaire, virgin, small town, Primal Kink, Childhood friends, enemies to lovers, small town, possessive Alpha hero , suspense, enemies to lovers,
Book 1 Scandals of the Father Review
or
Quick Shot Review of Scandals of the Father