The Make Up Artist
Sophie Sinclair.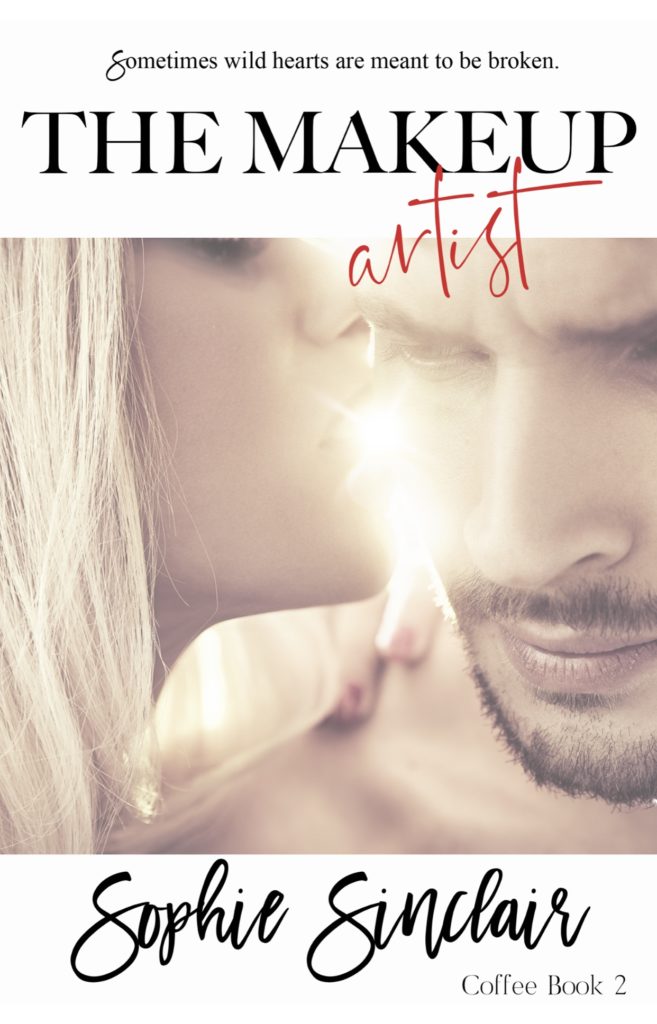 Lex and Sarah's dance sunshine right into my heart!
I am not even sure where to start with all my feelings of this book. Going in I already knew I was in love with this world the Sophie Sinclair created in Coffee Girl. (While this book can absolutely be read as a standalone do yourself a favor and read Coffee Girl!) I wasn't sure that Sinclair could top the magic she created in the First Book, Coffee Girl. Yet she completely did. Not only did she create that magic again she made it more intense, wittier, more romantic. I didn't even think it was possible. I spent days mooning over the love of Kiki and Tatum, only to be knocked to my knees by Lex and Sarah!
This book has laughs and love along with the perfect soundtrack to their story. Before we can even get to the love story part we need to spend sometimes on the friends, because really, they help make the moments in this story. I love the antics of Sarah and Kiki, plus the added splash of color bestie TJ adds to the mix. Gummy Bears up the nose, hitting possible drowning victims in the head with a life preserver, dressed up like a sparkly leprechaun in an Irish bar. So many perfect moments where you just want all three of them to be your best friend. We all need those people who help us laugh during the tough times, call us on our crap and hold our hand through heart break. TJ, Sarah, and Kiki are just the perfect trio of friends we should all have.
Now to dig into Sarah and Lex. Lex is such an ambiguous character in Coffee Girl, he is flirtly and friendly, but you know there is more to him. We don't know enough about him but know there is something tragic in his backstory. Finally, as he witnesses his best friend and Bandmate marry the love of his life, Lex opens up about why he guards his heart so closely. Why he is a one and done kind of guy. As the band is headed out on tour of the UK, this is forcing Lex to return to his Irish homeland after a 10-year absence and face head on his demons. Lex felt that he could only interact with what I call surface girls, girls who are only interested in the bragging rights of being with a Rockstar. Their interaction is nothing more than a hookup and will never be more for him. There is one person who has always been in the back of his mind, and his heart really, but Lex refuses to go there because he doesn't think he is good enough. For Lex this is Sarah, from their first interaction he has loved her snarky witty sense of humor. But for Lex, Sarah is a forever kind of girl and he just doesn't think he can ever be anyone's forever.
Sarah, on the other hand lives her life out loud. What you see is what you get. She is living her best life. You realize as the story develops, Sarah hasn't had the easiest of lives, despite that she has paved her way and made success. Sarah is one of those characters the more time you spend with her the more we see all her dimensions. She more than just a makeup artist. Sarah has layers! She is caring and loving. Her heart is true, but because of her own path she guards it. Sarah has been in love with Lex since before she even knew who he was, as she spends time with him as the band's make up artiest, she couldn't help but fall hopelessly in love with him.
Sarah and Lex's journey to their Happily Ever After isn't easy but I think every twist and turn is worth it. I enjoy the misteps along the way, they make Lex and Sarah seem real. Their interactions with their friends and Lex's family, their own self-doubt is something we all have dealt with. I can't not recommend enough that everyone who loves love should read this book. There is magic in its pages. I can not scream loud enough READ THIS BOOK!! This was a 10/5 Read for me. Lex has permanently found himself a place on my boyfriend bookshelf. A book boyfriend doesn't have to be perfect, they just need to have a truth and path to love, no matter the hurdles. Lex clears them but not without stumbling but in the end, he makes up for it with his passion for love and sunshine!
Meet the Author Sophie Sinclaire here: https://bookcaseandcoffee.com/meet-indie-author-sophie-sinclair/
??? ?????? ???? ?? ???? ?????? ???? ????: https://www.amazon.com/Coffee-Girl-Book-ebook/dp/B081DDKLZR/ref=mp_s_a_1_1?
You can find Sophie on social media platforms or on her website: https://www.sophiesinclairwrites.com/
️ FB Page: https://www.facebook.com/sophiesinclairwrites
️ IG: https://instagram.com/sophiesinclairauthor?igshid=x3fknjmt0adc
️ Bookbub: https://www.bookbub.com/authors/sophie-sinclair