"Mistletoe Bet" by Maren Moore
A Heartwarming Small Town Romance Packed with Christmas Magic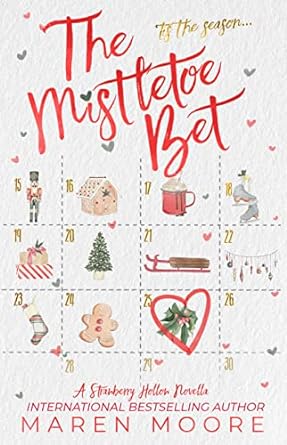 Maren Moore weaves a charming tale in "Mistletoe Bet," a delightful small-town romance featuring the classic trope of the brother's best friend—now a doctor—paired with the irresistible grumpy meets sunshine dynamic. The story is immersed in festive cheer, offering readers a cozy Christmas setting with the added bonus of a plus-size female main character.
The narrative introduces us to a big city girl, Quinn, whose aversion to Christmas sets the stage for a heartwarming journey. Enter a small-town boy, Doctor Parker Grant, ready to challenge her perspective with a simple bet that adds a delightful twist to the plot.
Having experienced Moore's storytelling magic before, I eagerly dived into this novella, and it lived up to expectations. Despite its brevity, the story is a perfect blend of sweetness and spice, creating a thoroughly enjoyable reading experience.
The banter-filled relationship between Quinn and Parker is a highlight, with the bet introducing a clever and charming element to their dynamic. Doctor Parker Grant emerges as a swoon-worthy character, capturing hearts with both his words and actions, making readers root for the budding romance.
While Quinn's initial 'big city girl' attitude may have been slightly irksome, her likability and relatability shine through, creating a character with depth and growth. The novella successfully blends spice and angst, delivering a captivating narrative that keeps readers engaged from start to finish.
As much as I enjoyed the story, a lingering wish for a longer narrative and a more gradual development of the romance remains. The pacing, while adding to the novella's charm, left me yearning for a deeper exploration of the characters and their connection, steering away from the insta-love trope.
"Mistletoe Bet" is a delightful holiday read that combines festive vibes, a brother's best friend trope, and a heartwarming small-town romance. Maren Moore's ability to infuse spice and sweetness into a short novella is commendable, leaving readers craving more of Quinn and Parker's enchanting story.
Rating: 4/5
Tropes: Small Town, Holiday, Brother's Best friend, real body 
Pop: 38%