Merciless Devil by Kylie Kent- Review
Delicious and Delightful is what  Merciless Devil by Kylie Kent is.
How do you make me love a friends to lovers romance? Have the couple wake up married in Vegas with the added benefit of Mutual Pining.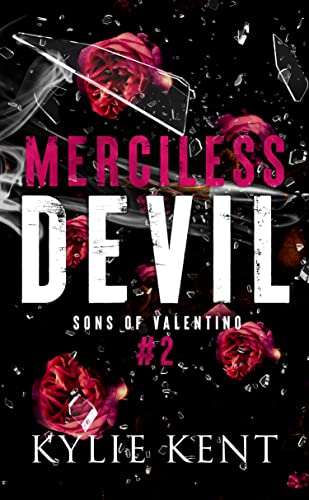 You do it with a marriage license in his pocket Mateo takes his long-time best friend to Vegas for a friend's wedding. That is just how Kylie Kent does it in this sexy romance! Things quickly escalate with one bed in the hotel suite, too much celebration, and an Elvis impersonator. Next thing Mateo knows he has a runaway 'wife' and demands a divorce. Mateo no longer wants to be in the friend zone with Savvy, he resorts to some creative measures to keep her with him. 

Matteo is the spare in the line of the Valentino Family's organization. He is smart and cunning. He was an excellent character. I really loved him and how he not only handled his fmaily obligations but his love and dedication to Savvy.
Savvy was fierce! She does not allow Matteo to run all over her. She does not easily give into his demands, instead she pushed back knowing that she was not sure she could survive in Matteo's world. Savvy's doubts and fears are due to the risks that come with being attached to a mafia family.
I quickly got caught up in Matteo and Savvy's story. Matteo's impulsiveness creates this confidence about his place in Savvy's heart.
This book has some great banter, with amazing characters. I am really enjoying this series and am excited to go back and read the First gen of this family. There is an effortless ease to this story in the way it is written. This is a family that loves big and has some amazing characters. I can not recommend this series enough!  
Book Stats:
Rating: 4/5
Series: Valentino Family 2nd Gen
Tropes: Friends to Lovers, Wake Up Marries, Vegas Wedding, Mafia Romance, 2nd Gen,