Make Me Merry by Marie Johnston
"Make Me Merry" made me very happy!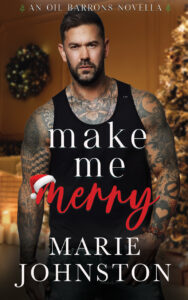 I was more than a little upset when I thought the Oil Barrons series was going to end without a book for Nora & Colt, so I was beyond excited to find out they were getting a holiday novella.
Colt is the mysterious ranch hand who has worked for Nora's mother since she was a child. No one knows much about him and he has always preferred to keep it that way until Nora walks in on him in a compromising position and he is forced to acknowledge the attraction between them. Nora has crushed on Colt for years, but never thought he reciprocated her feelings. A snow storm power outage and faulty generator create the perfect situation for sparks to fly between these two.
Colt has a troubled past that he finally shares with Nora. She helps him understand that he is a different person and is worthy of having the life that he wants now. Nora has come into her own throughout this series despite her mother Kira's constant refusal to understand her, but she still longs for that sense of family. Kira is deeply opposed to a relationship between Nora & Colt and it forces them to find a way to be together on their own terms. They have other obstacles in their path, but overcome them with communication and compromise. So refreshing!
Marie Johnston packs a lot of emotion and heat into this novella with very little angst. Colt & Nora are both amazing characters that compliment each other perfectly and I loved their story. It can be read as a standalone, but this entire series is full of complex characters worth reading about. The redemption arcs for the older generation of Barrons are particularly phenomenal. The author does an amazing job of creating situations that make them examine how they are treating their children and realize they need to make changes in a believable way. I highly recommend you check it out if you haven't already.
Book Stats:
Rating: 5/5
Series: Oil Barrons (Holiday Novella)
Type of Series: Interconnected Standalones
Tropes: Age Gap, Forced Proximity, Small Town, Snowed In, Holiday
POV: 1st Person Dual
POP: 50%
Third Act Breakup: No
Release Date: October 12, 2023