Shaken by Bella Matthews- Review
Shaken by Bella Matthews and is book 2 in the Diefant King Series. It can be read as a standalone. A lot of characters from previous and forthcoming stories do make an appearance, there are a lot of them. I am really enjoyed this story. I love that we get all the small town feels of the east coast but the fun possibilities of the big city. Wren and Sawyer were really great characters. Fun and witty banter abound in this book. Also so much steam!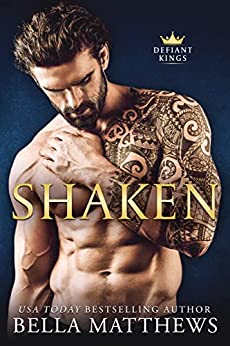 These two have a past. Their animosity steams from childhood and sometimes you just must hold a grudge. These two are out to push each other's buttons. Everything they did, socially or academically, were constantly in competition with the other.
Everyone around them saw they should be together. So many big families feels in this book. I will say I struggled keeping track of everyone. I felt like I needed a guide at times to keep track of who is who and where they fall in line.


Over this was an enjoyable read. It is perfect if you like big family dynamics. It is also a great way to get small town feels with big city access. I absolutely recommend this book.

Book Stats:
Rating: 4/5
Series- Defiant Kings
Interconnected Standalone
Tropes: Neighbors, Enemies to Lovers, Close Proximity, Friends with Benefits.
Pop: 26%