MAFIA MADMAN: A Dark Mafia Romance (The Kings of Italy Book 3) by Mila Finelli
Release Date: August 9th
Genre/Tropes: Mafia Dark Romance/Kidnapping/Enemies-to-Lovers
Add to Goodreads:
https://www.goodreads.com/book/show/60498204-mafia-madman
PREORDER TODAY!!!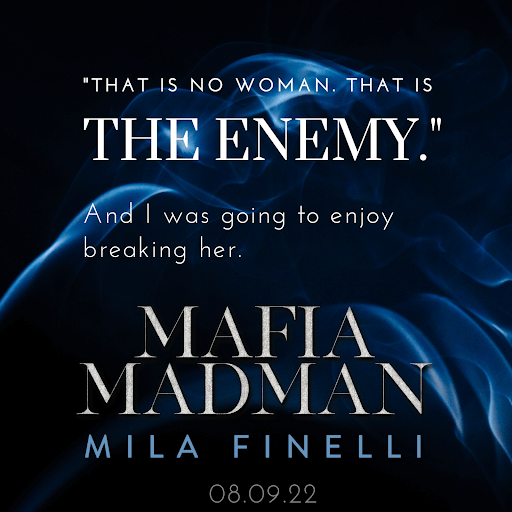 EXCERPT:
I slowly removed my sunglasses, revealing my face, keeping my gaze locked on Gia the entire time. A storm, wild and fierce, raged inside me, madness brought on by thoughts of my shame, my humiliation in that dungeon. I shoved it all down for the moment and stared directly into Gia Mancini's curious eyes. I waited. Silence often revealed what words could not.
She didn't flinch or fidget. Instead she let her eyes drift over me, examining. I braced myself for some recognition, some sign she knew me, but there was nothing except a flicker of feminine interest in her dark brown eyes.
Remarkable.
After a long moment she cocked her head. "Well?"
"What is your name, bella?"
"Gia."
"Your last name, Gia?" I let her name trail off my tongue, a caress of the syllables and vowels.
"Roberts," she said without a twitch. A very good liar, obviously.
"And what are you doing here in Milan?"
She blew out a breath and gave a small shake of her head. "Listen, I get it. A room full of women, guy like you? You're probably used to having your pick. But you're better off choosing someone else. Trust me on this."
"What if I don't want to choose someone else?"
"I would still tell you no."
So mouthy and bold. I wasn't used to being spoken to in such a manner, especially by a woman, but I had bigger concerns. If she was here to trap me, then why turn me down? It didn't add up.
Was it possible? Had she really no idea who I was?
Anticipation tightened my muscles, so I forced myself to relax. I couldn't scare her away. "You are American?"
"Canadian." Her lips flattened, like she regretted giving me the truth. "From Montreal."
Another lie. "Ah. Je peux t'offrir un verre?"
She blinked at my French, clearly not understanding. Would she admit her lie? "Oh, I was homeschooled and never learned French," she said.
She was clever and stubborn. Deceitful. All qualities I admired. "I asked if I may buy you a drink."
"My answer is no. Are we done here? I really need to get out of these shoes."
Best to let her think she was safe—for now. "Arrivederci, Gia Roberts."
She opened her mouth, as if to say something more, then closed it. Spinning, she walked away, and this time I let myself enjoy the view. Her ass was perfection, high and tight, begging to be slapped and fucked. Despite my many doubts, my dick twitched.
I smothered the reaction. I had to use her, not fuck her.
She disappeared and a plan took shape in my mind, the pieces slotting into place like a puzzle. It was perfect. Exactly what I needed to get vengeance on Fausto Ravazzani.
Everything he did to me? I would now do the same to his precious sister-in-law. I would take her and imprison her. Then I'd inflict all the horrors from the dungeon on Gia without a sliver of remorse.
And Ravazzani could only blame himself.
Vito appeared at my side. "Want me to bring her to the yacht?"
"No." I rose and put my sunglasses back on. "I want her followed until my meeting concludes this afternoon. Then I'll deal with her."
"It's good to see you take an interest in a woman again, but are you sure it's wise?"
"That is no woman. That is the enemy."
And I was going to enjoy breaking her.
Blurb:
ENZO
Years of work, my family, and almost my life—all stolen from me. For four years I rebuilt my empire, plotting in secret, planning to make my enemy suffer as I suffered.
So when the perfect weapon drops into my lap, who am I to say no?
Except Gia Mancini doesn't seem to mind my darkness. She likes it, even welcomes it.
I can't let her distract me, no matter how much I want her. No matter the fire that burns hot between us. I'll have her—and then I'll break her.
If she expects mercy, she'll be disappointed. I'm no hero. I'm a ruthless king, born to be the villain.
******
MAFIA MADMAN is written by a USA Today Bestselling author. It can be read as a standalone, but it's probably better if you read Mafia Mistress and Mafia Darling first!
If you like feisty heroines, heroes who are a little bit cruel and a lot filthy, and plenty of heat, then welcome to Mila's twisted world. Don't say you weren't warned!
About the Author:
A USA Today bestselling author in another genre, Mila finally decided to write the filthy mafia kings she's been dreaming about for years. She's addicted to coffee, travel and Roy Kent.
Connect w/Mila:
Website: https://milafinelli.com/
Facebook: https://www.facebook.com/milafinelliauthor/
FB Readers group: https://www.facebook.com/groups/1329708337472865/
Amazon: https://www.amazon.com/Mila-Finelli/e/B09F3KT7FP/
Bookbub: https://www.bookbub.com/authors/mila-finelli
Instagram: https://instagram.com/mila_finelli_author