Made for Romeo by Natasha Madison
Romeo Beckett mades a foolish choice and loses the one thing that he thought he didn't need. Eight months later, Romeo is back to claim his woman. He has done a TON of soul searching has become very self aware of past behaviors.
Gabriella Stone walked in on that foolish choice. Instead of making Romeo's suffer, she removed herself from the equation. Eight months later when Romeo shows up on her doorstep, she is not happy.
Made for Romeo is one of those books that you just need to read. Romeo is one of those characters that you want to dislike, but as you learn about the lengths he has gone to be a better person shows him in a new light. I LOVE the interactions that he has with is family and the way in which they do not sugar coat a thing. For example, when his sister finds out just what happens…
"Bye, Romeo," Ryleigh says. "I hope you fall dick first into a cactus."
Gabriella is a woman who was broken by what happened, but she didn't allow that to stop her. She moved home to Dallas but she continued to live her life. Yes it wasn't as fulfilling as she wanted, but it was her.
Romeo grovels, and he talks and then he grovels some more. These two have conversations. They communicate, they were refreshing. Give this one a try… if you have not read any of the other books in this series it can be read as a standalone.
This is perfect Natasha Madison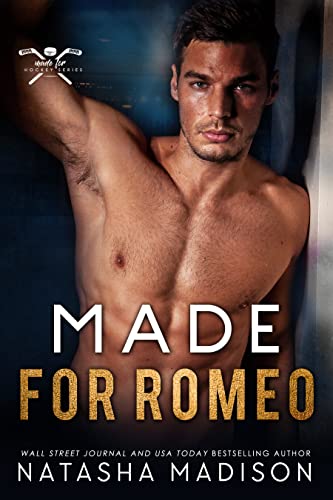 POV:  Dual 1st Person
Put out percentage: 62%
Tropes: Second Chance, Second Generation, Hollywood Norm,  Enemies to Lovers, Billionaire, Redemption Romance, Slow Burn 
Series: Made For Series book 4
Type of Series: Series of standalones
Rate:  5/5 Stars
Release Date: June 2, 2023
Is there a 3rd act break up: No
Want more Natasha?? Check out the HAPPY HOUR she did with Becky and Heather HERE!!