Four Day Fling by Emma Hart
Four Day Fling by Emma Hart is a smart and snarky rom-com that will leave you with a sweetly earned HEA.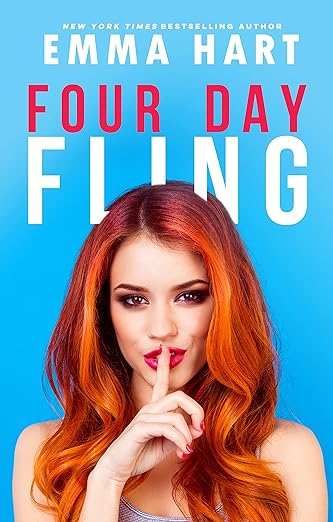 What I found most endearing in this narrative were the characters themselves. Poppy embodied quirkiness, awkwardness, and unabashed independence. Her personality was an absolute riot, and it was impossible not to be charmed by her. Picture this: a one-night stand with an extraordinary guy followed by a bold invitation to a wedding. I, for one, couldn't muster the courage to do something like that! Poppy's snarky demeanor was a delight, and I found myself yearning for those witty shirts she wore; they had me in stitches. Despite Poppy's self-perceived chaos, she was the unspoken glue that held her family together. Then there's Adam—a breath of fresh air in every sense. Despite his fame, he was drawn to Poppy because, for the first time, someone was interested in Adam, the person, not just the professional hockey player. The intensity of their connection was undeniable, so when she asked him to be her pretend date for her sister's wedding, he couldn't resist. Adam, I must say, was utterly captivating. He exuded sexiness and intensity, yet he made me swoon and effortlessly handled all the craziness that Poppy threw his way.
Poppy and Adam together were a match made in heaven. Their connection was immediate and intense, and I adored how seamlessly they blended into each other's lives. The boundary between pretense and reality blurred effortlessly. I couldn't help but cheer for them wholeheartedly. They kept me thoroughly entertained. Adam provided the stability that Poppy needed, skillfully navigating her stubbornness and fearlessly pursuing what he desired.
And, of course, the family dynamics in this story were an absolute gem. There was the sister teetering on the brink of bridezilla territory, a mother whose approval seemed impossible to obtain, a father who remained supportive and easygoing, and a grandfather and aunt who never failed to leave you doubled over in laughter. The interplay among the family members added a delightful layer to the story, leaving me eagerly anticipating each of their next moves.
"Four Day Fling" was an enthralling read from the first page to the last. The storytelling was masterful, keeping me captivated throughout. I devoured this book within a few short hours. The characters were a joy, and it was effortless to connect with them. The story struck a perfect balance between humor, sizzling romance, and drama. "Four Day Fling" is the ideal summer read, guaranteed to have you both laughing and swooning. Once again, Emma Hart has crafted a delightful and unforgettable romantic comedy.
Book Stats:
Rating: 5/5
Tropes: Fake relationship, one night stand, sports romance, rom-com
Standalone
Pop: 12%.