For the Love of Whiskey by Melissa Foster
If you're looking for a captivating romance read, look no further than For the Love of Whiskey by Melissa Foster.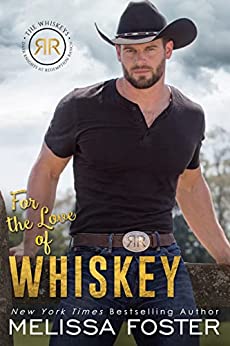 "For the Love of Whiskey" is a prime example of this, as it not only met my expectations, but exceeded them in every way possible. This book tells a poignant tale of resilience in the face of tragedy and the transformative power of love and acceptance.
It also gives the reader an unexpected and quiet protective hero. Many of us who have fallen in love with the quiet fierceness of the hero Rip from Yellowstone, this is your book.
Callahan "Cowboy" Whiskey is everything I did not know I wanted. His care and love of all creatures under care brings some big feelings with this story. Callahan quickly won my heart and secured his place on my book boyfriend list. He embodied all the qualities of a truly good man, and I couldn't help but fall for him.
As I read, I was completely drawn to the characters of Sully/Sullivan Tate. Sully's inner strength and beauty were truly inspiring, and she deserved all the happiness that came her way. She was smart and thoughtful. Her journey in this story was powerful and shows the true genius of Meissa Foster's writing.
"For the Love of Whiskey" is a must-read romance that will tug at your heartstrings and leave you feeling both crushed and hopeful all at once. I highly recommend adding it to your TBR list and giving it a read. Trust me, you won't regret it!
Please note I did not read the prequel Sully which gives the background to Sully and her escape from The Rebellion. Nor did I read Then Came Love, which is loosely connected to characters in this story.  
Book Stats:
Rating 5/5
Series: The Whiskey's Redemption Ranch
Tropes: age-gap, body-guard, close-proximity, cowboys, danger-stalker-kidnapping, emotional-trauma, fated-to-love, found-family, friends-to-lovers, girl-gang-series, grumpy-sunshine, instant-attraction, level-3-steam, mc-club, protector, read, redemption-romance, relationship-coaching, small-town, stern-brunch-daddy