Ep 69. Corset and Crown Drawing Room Chat with Eloisa James
On this Episode of Buzzing about Romance hosting duties are handed over to Duchess Katie and Lady Sadie for a special Corset and Crown Edition of the Podcast. Duchess Katie and Lady Sadie head to the Drawing Room for a chat with author Eloisa James. They chat about her latest release Mistletoe Christmas and the struggles of writing romance.
Meet Eloisa: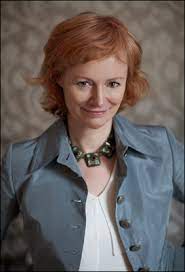 New York Times bestselling author Eloisa James writes historical romances for HarperCollins Publishers. Her novels have been published to great acclaim. A reviewer from USA Today wrote of Eloisa's very first book that she "found herself devouring the book like a dieter with a Hershey bar"; later People Magazine raved that "romance writing does not get much better than this." Her novels have repeatedly received starred reviews from Publishers' Weekly and Library Journal and regularly appear on the best-seller lists.
After graduating from Harvard University, Eloisa got an M.Phil. from Oxford University, a Ph.D. from Yale and eventually became a Shakespeare professor, publishing an academic book with Oxford University Press. Currently she is an associate professor and head of the Creative Writing program at Fordham University in New York City. Her "double life" is a source of fascination to the media and her readers. In her professorial guise, she's written a New York Times op-ed defending romance, as well as articles published everywhere from women's magazines such as More to writers' journals such as the Romance Writers' Report.
Where to find Eloisa James:

Patreon: https://Patreon.com/bookcaseandcoffee
Facebook: https://Facebook.com/buzzingaboutromance
Instagram: @buzzingaboutormance
Find Corset and Crown at:
https://www.instagram.com/corsetandcrown
Duchess Katie aka Bookstakatie : InstagramGoodreads
Music by Cambo
Itunes | Spotify | Stitcher | Google | RSS Feed